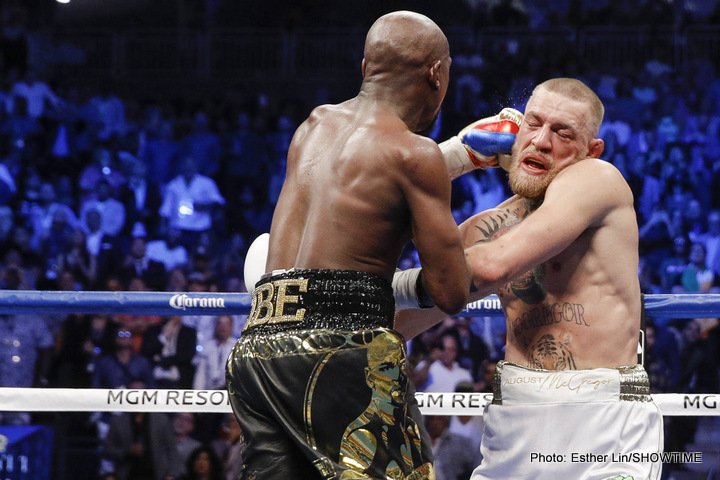 Talk, most of it coming from the man himself, of Floyd Mayweather venturing into the cage and the world of MMA refuses to go away. Last week, the 41 year old superstar and all time great told TMZ Sports how he would "soon" begin MMA training with UFC welterweight champ Tyron Woodley, while "Money" Mayweather has now confirmed how he will be applying for a license as an MMA fighter.
Mayweather, who "retired" after beating up MMA star Conor McGregor in a boxing match last August, again spoke with TMZ Sports, telling the folks there how he is determined to fight in what would/will be his second sport:
"Everything takes time. Eventually, we're gonna apply for the license, and hopefully we can fight," Mayweather said. "Even if it take six to eight months – whatever it takes. We want to make sure that everything is done correctly, and everything is done the right way."
Mayweather is likely to apply for his license in the state of Nevada. Of course, many fans refuse to accept that Mayweather – a fighter many millions of critics claim was always a "safety-first" "cherry picking" boxer, one who never took a fight he wasn't totally sure he would win – will take the risk of not only losing but of being hurt. But, as has been pointed out, Mayweather loves – LOVES – money, and it boggles the mind how much Floyd would get his hands on if he fought in a big MMA/UFC fight.
And, in Mayweather's mind at least, he would not really have "lost" even if (or when) he got beaten inside the cage. Floyd would still be 50-0 as a boxer. Even the cynics, and there are many, have to admit that, yes, they would tune in to watch Mayweather fight in MMA – if only to see the man who has so polarised his sport get a beating.
Nobody ever said Mayweather was not a good businessman. Don't be shocked if 'The fighter you love to hate' indeed has at least one MMA fight late this year or early next. And imagine if "Money" actually managed to win it!