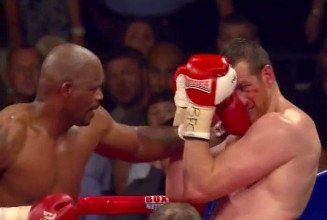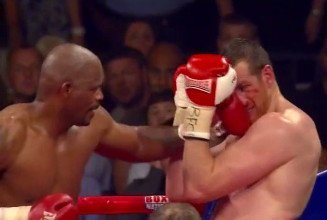 Lennox Lewis figures that all British heavyweight David Price (15-2, 13 Ko's) needs is to have his stamina problem fixed and he'll be okay after his second straight defeat to 41-year-old Tony Thompson (38-3, 26 KO's) last Saturday night at the Echo Arena in Liverpool, UK.
Thompson stopped an exhausted Price in the 5th round after battering him with a rain of hard shots in the 4th and 5th round until referee had seen enough and stopped the contest.
Lewis said to Sky Sports "To become a great fighter you have to have a good chin. You have to have stamina. You have to be able to box on the inside…So we find out David's stamina problem; all we have to do is fix that."
I wish Price and Lewis a lot of luck in trying to fix his stamina problems, because it's not as if Price a young guy. He's 29-years-old and he's huge at 6'8". His stamina problem may be a permanent thing. Look at the huge Klitschko brothers. Both of them have stamina issues as well, but they've learned to pace themselves by fighting slowly, not exhausting themselves by throwing nonstop punches, and not running around the ring.
Wladimir learned his lesson early in his career when he was stopped by Ross Puritty and Lamon Brewster after punching himself out in both fights. It wasn't until Wladimir teamed up with trainer Emanuel Steward that he settled down and became a much better fighter. But Wladimir's stamina problems are still, and if he were to try and fight like Price did last night, I'd be willing to bet that he'd have punched himself out as well. The difference here is that Wladimir would have knocked Thompson out if he had thrown as many punches as Price did. But if Wladimir didn't score a knockout, then yeah he'd have been in trouble fighting like Price did.
Price made a lot of fixable mistakes last night. He didn't clinch to shut Thompson down in close, he didn't use his jab to keep on the outside, and he threw way too many punches. Price would have been okay if he had kept the fight on the outside and fought slower and resisted the urge to slug with Thompson.
Price's stamina problems look to be pretty significant. He's going to have to make major changes to his fighting style if he doesn't want to gas out again like last night, because his future opponents are going to be fighting him just like Thompson did to see if they can wear him down.