This coming Saturday night is a perfect example of why the old saying "less is more" fits like a glove when it comes to the amount of boxing available since 2015. When Al Haymon's Premier Boxing Champions first launched in 2015, the media and fans alike felt overjoyed, then not long after, overwhelmed pertaining to the suddenly busy schedule.
The main complaint (beyond the hypercritical attitude towards PBC cards, no other platform has yet received from the media) is the fights being spread out on too many channels making it difficult to follow. In 2017, Top Rank landed a deal with ESPN, followed the next year by DAZN adding an abundance of cards to an already overfilled landscape. It should be noted that post-covid, there have been fewer overall cards technically. Still, the amount is just way too much if we're being honest about it.
Don't get me wrong; I don't miss the days in the summertime when fans would sometimes wait a few weeks, if not more, to see a high-level card. Yes, ESPN FNF was every week for eight months or so out of the year, but once again, honestly speaking, the quality was very inconsistent in the last several years of existence. The majority of prospects' fights weren't televised until they became a contender in some sort of step-up fight on HBO or Showtime besides ShoBox, of course. ESPN did broadcast prospects, contenders, and mid-level title fights or title eliminators, but it generally was a step down from what we would get on the premium channels or PPV main event.
To be fair to ESPN, having to stage an event every single week from January to the end of August is extremely difficult, especially without deals from multiple promoters. They even ran Wednesday cards for a while in the spring and summer. The key for promoters, managers, and boxers was to get on either HBO or SHO. At times Showtime was a breeding ground for HBO, which most considered the "Big Leagues" at certain divisions' perfect example would be Andre Ward. To reiterate, I don't want to go back to those days, but if we're being fair, there is just way too much boxing on television/streaming platforms.
Don't get me wrong; I love that DAZN and ESPN+ allow us boxing junkie's to see fights we either wouldn't be able to access or are forced to rely on shaky streams or crappy replays. Slowly but surely, we saw promoters starting to stream undercard action on their websites or on Sho Extreme at times. The bottom line is theirs too many walkover bouts or mismatches on paper that shouldn't be on the broadcast at the top portion of a card. Save those for the prelims streams more like they used to be, please, and thanks. And even when we get great fights, often they'll have a competing card. My rant is over, and by the way, my picks for the undercard fights will be at the bottom of this article, so let's get started.
For all 3 of the main events, Brian Mendoza has the best chance to pull off an upset over Sebastian Fundora. One reason is the reckless style of Fundora wanting to engage. The other main reason is how gifted Shakur Stevenson and Bam Rodriguez are not just at their weight classes but how they stack up in the world rankings. I like the opponents rising prospects Keyshawn Davis and Jared Anderson are facing. Boxers at this stage with interesting matchups from Anthony Yigit and George Arias fit great in this boxing podcaster's opinion. We also must remember two things about the main event. Top Rank did try to secure a better opponent for Shakur, and Shuichiro Yoshino is a very good boxer. Yoshino is coming off impressive wins over Nakatani and Ito. However, Shakur is too talented, and Yoshino isn't getting any younger.
My Official Prediction is Shakur Stevenson by UD or Late TKO.
Bam Rodriguez vs Gonzalez
Ultra-talented San Antonio native Bam Rodriguez's opposition Cristian Gonzalez is green, and sanctioning rankings is the only reason why they're fighting for a vacant strap. Not ripping either guy. Truthfully, Bam had an admirable string of fights last year. Not to mention he seems to be lined up with the likes of Sunny Edwards, who is now a stablemate at Matchroom, among other intriguing challenges at flyweight. Also on the undercard is Murodjon Akhmadaliev vs. Marlon Tapales, who worked his way up the rankings to become mandatory. MJ has been inactive and somewhat inconsistent, making Marlon Tapales a live underdog sitting on the betting books around +330 to +355; defiantly worth taking a flyer out on.
One could make an argument the two best fights on the card and possibly of the weekend in the way of competitiveness round by round are Raymond Ford vs. Jessie Magdaleno and Ramiro Cesena vs. Thomas Mattice. Magdaleno is a good veteran test for the 13-0 Ford, and Raymond will have to really work to win by decision. With a victory, Raymond climbs into the fringe contender range at a 126-pound division that's heating up and should feature a host of meaningful fights. By far, the closest matchup bout of the weekend is Cesena vs. Mattice, with Cesena a slight favorite at -108 to -114 and Thomas at the high end is +150. Mattice has three losses, sure, but he's been in close affairs against Isaac Cruz, Luis Mendez, and Will Madera. Ramiro is 16-0 with 13 stoppages and had a majority-decision win over then-unbeaten prospect Bekman Soylybayev.
My Official Prediction is Bam Rodriguez by TKO.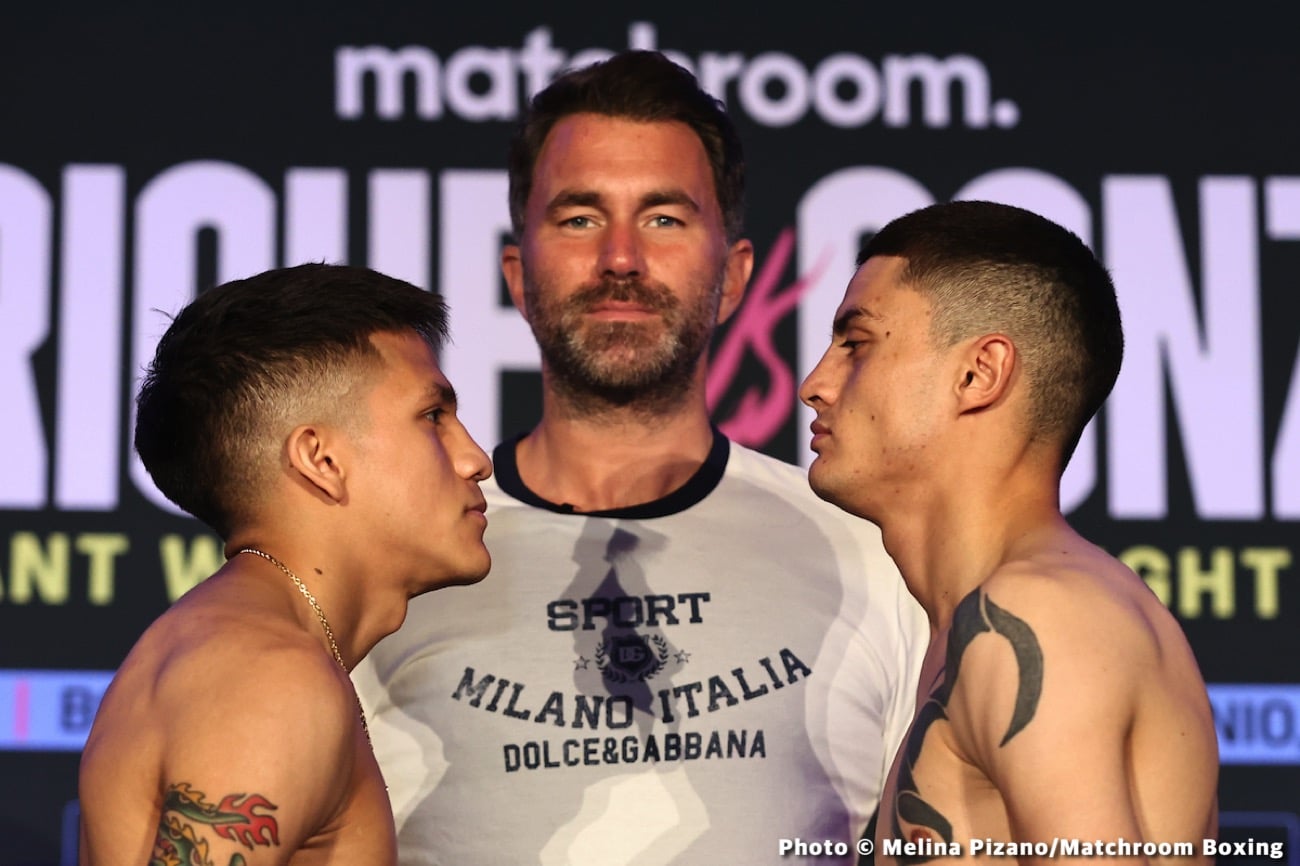 Fundora vs Mendoza
Finishing up this preview for Saturday's action will end with Sebastian Fundora vs. Brian Mendoza. Fundora is waiting for his turn at the undisputed champion Jermell Charlo unless, of course, Tim Tszyu defeats him later this year. Both Mendoza and Carlos Ocampa are placeholder-type fights coming off a crazy war with Erickson Lubin in April 2022. Mendoza did knockout former unified champ Jeison Rosario and gave a good account versus up-and-coming contender Jesus Ramos. He also didn't look all that good in a split-decision loss vs. Larry Gomez and got a controversial win over Thomas LaManna. It appeared to this hack-of-a-scribe that Mendoza was kept at bay by LaManna's jab and right hand that said Fundora wouldn't attempt to outbox Brian.
The other two fights on the Showtime Tripleheader are Brandun Lee vs. Pedro Campa and Luis Nunez vs. Chrisitan Barreda. At least Lee is in a much need step-up fight to an extent anyways. Campa did just face Teofimo Lopez, so we have a measuring stick of sorts. Luis Nunez should be able to take care of business, but Christian Barreda is a live dog sitting anywhere from +160 to +220. Nunez had a stay-busy outing to close 2022 but did put together three wins over undefeated prospects prior. The toughest was Jonathan Fierro; Nunez flashed the ability to not only box on the outside but also bang on the inside en route to a close-decision victory over ten rounds.
My Official Prediction is Sebastian Fundora by Unanimous Decision.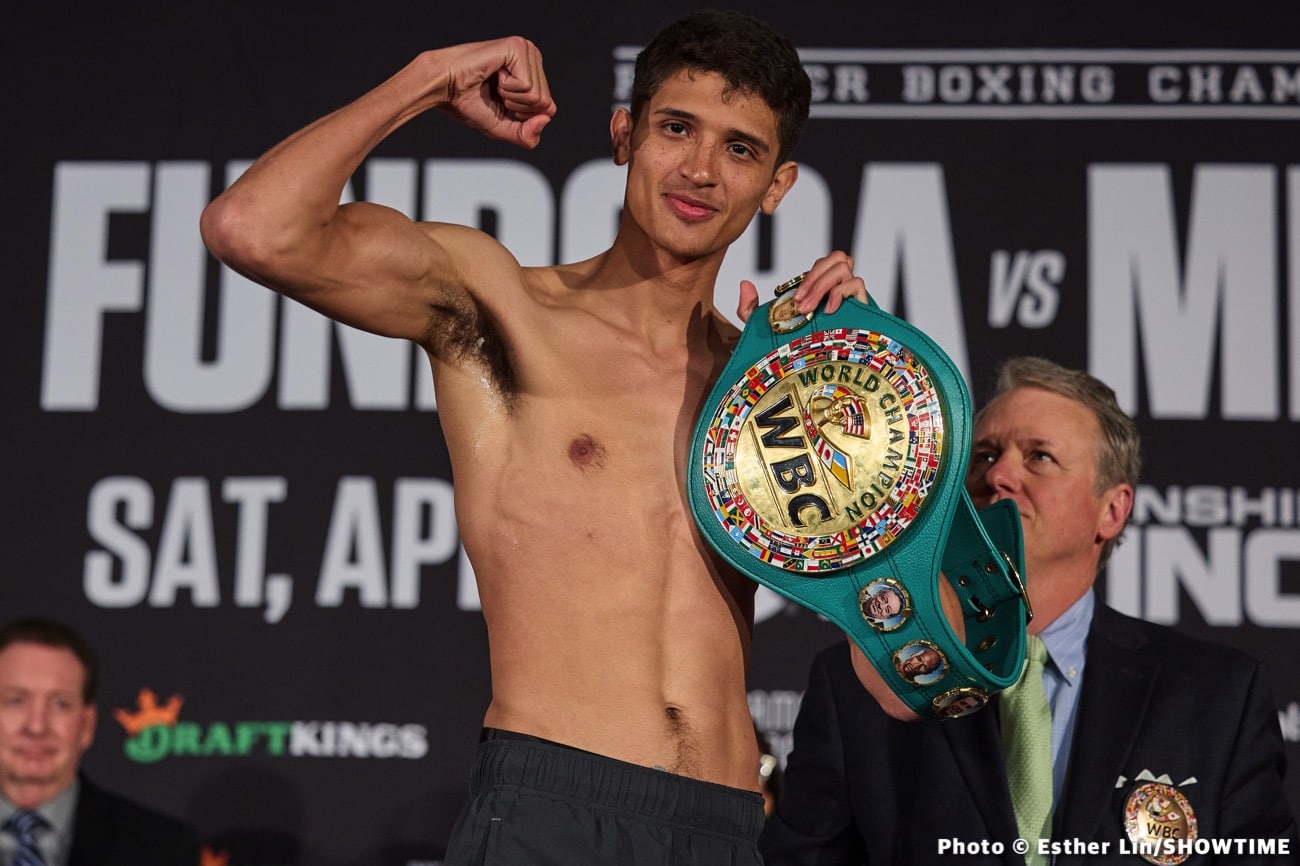 My Quick Picks: Davis & Anderson UD on ESPN. Taples SD Upset, Ford UD, & Mattice MD on DAZN. Lee KO and Nunez UD on Showtime.
Written by Chris Carlson, Host/Producer of The Rope A Dope Radio Podcast Available at www.blogtalkradio.com/ropeadoperadio Follow on Twitter @RopeADopeRadio