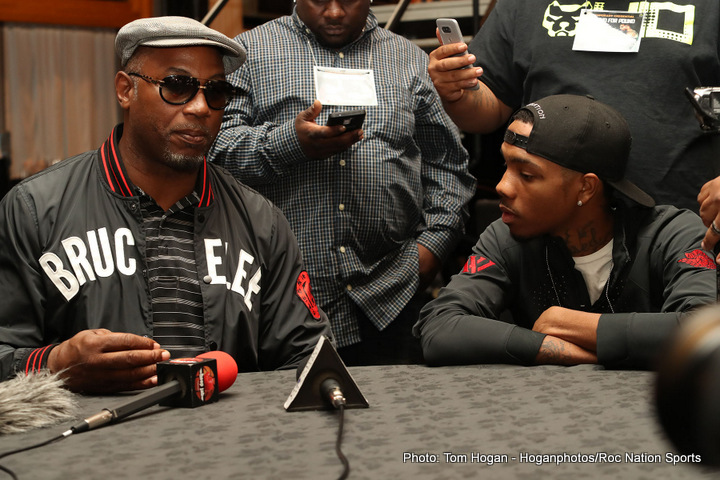 Everyone it seems, has an opinion on the upcoming cash bonanza that will be the Floyd Mayweather Vs. Conor McGregor clash. Retired heavyweight great Lennox Lewis is the latest big name to weigh-in on the much maligned August 26 "Super-Fight," and Lewis doesn't have anything good to say about the crossover bout.
"I can't take it serious," Lewis told The Star. "Mayweather is the best in his weight class, no one can touch him in boxing. He's a pugilist of the highest order, so for another man from a different sport to fight him? It's just ridiculous to me. They are two totally different sports. Floyd will stop him. He's just too good at boxing for McGregor and McGregor is too inexperienced at boxing. He can't use his other styles."
Lewis added how he will "not buy it on pay-per-view." Many millions of fans the world over are expected to watch this fight, though – with record breaking pay-per-view numbers already being spoken of as a genuine possibility. Some people see the upcoming bout as a "freak show," while others argue how McGregor has a genuine puncher's chance.
The curiosity factor surrounding this fight will likely be responsible for pulling in a substantial number of those fans who do what Lewis will not and buy the card. Who knows, if a solid under-card is featured, maybe more people will find themselves opting to buy the card? There is talk of Mayweather fighters Badou Jack (possibly against Welshman Nathan Cleverly) and J'Leon Love being featured on the Las Vegas show.
With these two exciting fighters in action, and maybe another couple of names also, perhaps the card will attract more "real" boxing fans than the critics anticipate.
Along with Lewis, Ricky Hatton has also had largely negative things to say about the upcoming fight:
"I can't say I'm a fan of it," Hatton told BBC Radio 5. "I'm a fan of UFC, a fan of McGregor – he's got character, he's exciting, entertaining, value for money. It's going to be great entertainment, – that's the most complimentary I can be about it. It's two different sports."
A number of people agree there will be entertainment – but in the pre-fight pressers, face-offs and with the expected trash-talk. The fight itself, however, could very well prove to be one hugely disappointing mismatch.