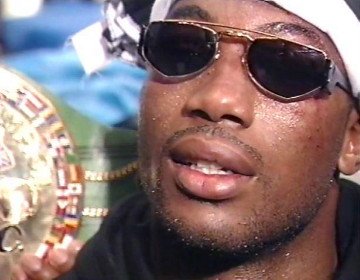 As we are today, fans, most of them British, were getting ready for a heavyweight showdown in Cardiff, Wales back in October of 1993. Back then, Lennox Lewis was defending his WBC title (the one he had picked out of the garbage after Riddick Bowe unceremoniously placed it there rather than face Lewis in a return meeting of their 1988 Olympic clash) against British folk hero Frank Bruno.
Tomorrow night's fight, between current British heavyweight darling, and reigning WBA/IBF champ Anthony Joshua, who will defend against late replacement foe Carlos Takam, is no way near as big an event – but we might get a tasty KO from AJ to make the pay-per-view cash that must be forked out at least a little bit worthwhile.
But if we do somehow get a battle as titanic and as fun to watch as Lewis-Bruno turned out to be, we will all go home, or go to bed, happy.
Lewis was unbeaten yet he had still to polish his craft to the the extent he would do a few years later when under the tutelage of the great Emanuel Steward. Bruno was a former two-time world heavyweight title challenger, having been quite brutally KO'd by Tim Witherspoon and then Mike Tyson. Going into the October 1993 showdown, Bruno's huge fan-base beat the drum loudly yet again, their hearts, if not their heads telling them that "Big" Frank could do it and make it a case of third time's a charm.
There was pre-fight needle in the form of Bruno taking understandable offence over Lewis calling him an "Uncle Tom." Bruno threatened legal action and the self-proclaimed "True Brit," (Bruno taking a dig at Lewis' Canadian background) also vowed to smash Lewis in the ring.
It turned out to be a dramatic fight that had a few swings in momentum. On a cold night that was threatened by rain, Bruno got off to a great start, tagging Lewis with his formidable left jab and also stunning the champ in the third-round with a power shot that seemed to briefly wobble him. Lewis, in possession of a fine, snappy left jab, picked up points but he was showing signs of battle, marked up around the eye as he was.
By the end of round-six, two of the official judges had it all even, while the other official had Bruno up by a quite surprising four-point margin. Then, in round-seven, when under fire, Lewis uncorked a wicked left hand to the chin that absolutely drained Bruno of both his strength and his balance. Instantly following up his attack on a badly wounded fighter, Lewis hit Bruno with everything as the challenger was stuck firmly on the ropes.
Referee Vann dived in, appearing to put a halt to the fight, yet he was actually warning Lewis for using his forearm. The beating was then allowed to go on. Lewis, later saying he was trying to "rip his head off," showed his vicious side as he refused to let his prey off the hook. Bruno, his legs stiffened, his brain unable to function, was simply unable to fall. Finally, amidst much screaming and shouting, Vann at last stepped in to stop the slaughter.
Lewis, who refused to remove his dark shades when asked to do so during a post-fight interview, had been in a tough fight and he knew it. Still, in the end the natural fighter, the more fluid boxer, had won; this despite the flaws Lewis carried at this point in his career.
In the end it was a savage fight, a good fight and a memorable night in Cardiff. Now, can we possibly get something half as good tomorrow night? Lewis and Bruno will be watching to find out.