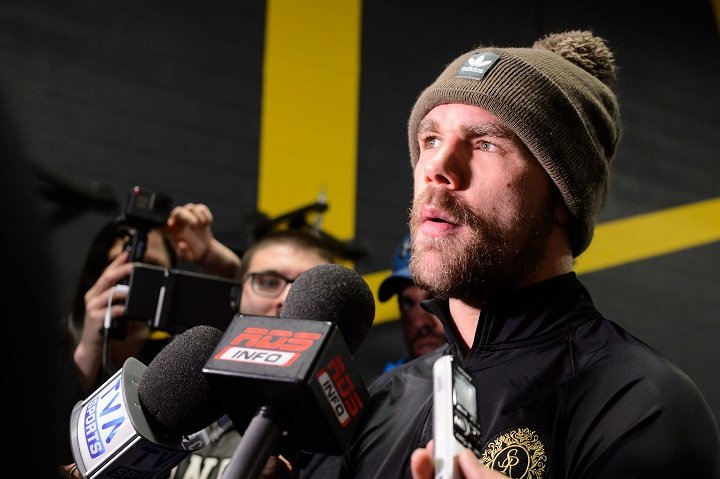 WBO Middleweight World Champion Billy Joe Saunders has vowed to put David Lemieux 'out like a candle' when the bitter rivals square off at the Place Bell in Laval, Quebec this weekend, live on BT Sport HD2 and BoxNation.
Hatfield star Saunders will be fighting overseas for the first time in his professional career when he makes the third defence of his crown against the hard-hitting Lemieux in his own backyard, and is unfazed by fighting in hostile territory.
(Photo par Vincent Ethier/EOTTM)
"I'm a fighting man, a gypsy warrior, and I'll travel anywhere on the planet to defend my World Title," said Saunders. "I'm heading into the lions den this weekend, Lemieux will have the whole arena behind him but that won't make one ounce of a difference, I'll thrive off their hate for me. Once that bell goes it's just me and him stood in that ring, he's is for one hell of a tough night.
"I know I will have 13,000 or 14,000 people against me on Saturday night but I can perform under that kind of pressure. I've boxed since I was 16 all over the World, that was as an amateur but you still get that same fear factor, winning or losing, and travelling away to fights."
Former Middleweight title holder Lemieux has promised to 'do everyone a favour' by 'getting rid' of Saunders. The Montreal native boasts 33 big knockouts from 38 career wins and is eager to 'do damage' to Saunders, telling journalists at Tuesday's media workout that the Champion will 'hit the floor'.
Hertfordshire hitter Saunders is in a typically confident mood heading into Saturday's showdown, even promising Lemieux his entire fight purse if the Canadian manages to knock him out.
"Lemieux shows a lot of heart when he comes to fight but the real truth is, I'm too slick and too good for him. People bang on about him being this monster puncher but you can't hit what you can't see – we're going to play a game of eat the jab and then I'm going to put him out like a candle! I'm in this game to take on the best and once I've wiped out 'little legs' I'm coming for Canelo and Golovkin."
Watch Saunders vs. Lemieux live on BT Sport 2HD and BoxNation from 2.00am this Sunday.
Billy Joe Saunders has welcomed some good news for Tyson Fury ahead of his own WBO title defence against David Lemieux
Billy Joe Saunders has welcomed Tyson Fury's anticipated return to action in 2018 ahead of his own world-title defence against David Lemieux in Canada this weekend.
WBO world middleweight champion Saunders travels to Lemieux's backyard to defend his title at the Place Bell in Laval, Quebec on Saturday night in a bout that will be screened live in the UK and Ireland on BoxNation, while HBO broadcast the fight across the Atlantic.
The 28-year-old title holder's old friend Fury will be ringside to support him this weekend and Saunders was delighted to hear this week's news that his fellow Traveller and world champion Fury – the lineal heavyweight titlist – has been cleared to box again.
"I'm over the moon," said Saunders, who predicted that a much-hyped showdown between Fury and current belt holder Anthony Joshua will take place in 2018.
"I'm just pleased that he's been set free and he can go and earn a few quid. He's with the MTK stable too now, so he can go to work and take [Anthony] Joshua on," added the MTK Global-backed middleweight following Fury's recent move to sign an advisory deal with the same management group.
"I'll be going up and doing a bit of training with Tyson soon, 100 per cent," continued Saunders. "He's in a different place now mentally and he's the man – he's the man at that weight. The 'Gypsy King' is back to get his gold back!"
Saunders (25-0, 12KO) is looking to make his third successful world-title defence and extend his undefeated record on Saturday night when he meets the hard-hitting Lemieux on a Golden Boy Bill backed by Frank Warren.
Ahead of Thursday's final pre-fight press conference, the relaxed champion insisted that he is looking forward to returning home with his title this weekend.
"I'm confident and I wouldn't be here it I wasn't," said Saunders. "All it is now is a waiting game. Weigh-in on Friday, fight Saturday and home Sunday.
"It's a waiting game because I've been away a long time, but I've had a great camp. I have a good team in MTK behind me, good management, and Frank Warren Promotions too, so I'm looking forward to a good Christmas when I can bring my belt home and it'll be happy days."
Billy Joe Saunders vs. David Lemieux on HBO this Sat. on 12/16
HBO Sports closes out 2017 with a high-stakes middleweight slugfest from the boxing hotbed of Quebec when WORLD CHAMPIONSHIP BOXING: BILLY JOE SAUNDERS VS. DAVID LEMIEUX AND ANTOINE DOUGLAS VS. GARY O'SULLIVAN AND CLETUS SELDIN VS. YVES ULYSSE JR. is seen SATURDAY, DEC. 16 at 9:40 p.m. (live ET/tape-delayed PT) from Place Bell in Laval, Quebec. The HBO Sports team will call all the action, which will be available in HDTV, closed-captioned for the hearing-impaired and presented in Spanish on HBO Latino.
The fights will also be available on HBO NOW, HBO GO, HBO On Demand and affiliate portals.
The main event features a 160-pound title showdown, as undefeated middleweight champ Billy Joe Saunders (25-0, 12 KOs) brings his crown and colorful personality across the Atlantic for a scheduled 12-round bout with Montreal brawler David Lemieux (38-3, 33 KOs). The 28-year-old Saunders, who hails from the UK, won his title belt from Andy Lee in 2015 and is making his first appearance outside his country.
Lemieux, 28, is a thunderous puncher who has thrilled fans with his style and power. Accepting every challenge, he scored what some observers consider to be a candidate for Knockout of the Year last March when he finished Curtis Stevens in the third round of a fight seen on HBO.
The co-feature is a ten-round middleweight battle between Antoine Douglas (22-1-1, 16 KOs) and Gary O'Sullivan (26-2, 18 KOs). Douglas, 25, hails from Burke, Va., while the 33-year-old O'Sullivan, from Cork, Ireland, is making his HBO debut. Both fighters are fighting professionally in Canada for the first time.
The opening bout is an intriguing super lightweight ten-round showdown, as Brooklyn's Cletus Seldin (21-0, 17 KOs), fresh off a stunning KO win on Nov. 11, makes a quick turnaround to face Montreal's Yves Ulysse Jr. (14-1, 9 KOs). Seldin, 31, has fought 17 of his 21 pro bouts on Long Island; Ulysse Jr., 29, looks to raise his profile in the 140-pound division.
The tripleheader will mark the fifth Saturday in six weeks that HBO has presented live boxing, dating back to Nov. 11, showcasing a wide range of hungry young fighters, emerging stars and world-class champions.
Follow HBO boxing news at hbo.com/boxing, on Facebook at facebook.com/hboboxing and on Twitter at twitter.com/hboboxing.
All HBO boxing events are presented in HDTV. HBO viewers must have access to the HBO HDTV channel to watch HBO programming in high definition.
The executive producer of HBO Sports is Rick Bernstein; producer, Dave Harmon; director, Johnathan Evans.
® WORLD CHAMPIONSHIP BOXING is a registered service mark of Home Box Office, Inc.