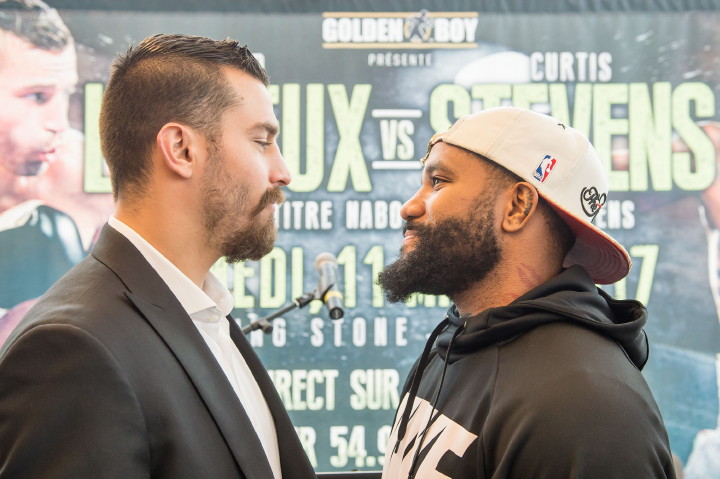 Former IBF Middleweight Champion David Lemieux (36-3, 32 KOs) will defend his NABO Middleweight title against Curtis "The Cerebral Assassin" Stevens (29-5, 21 KOs) on Saturday, March 11 at Turning Stone Resort and Casino in Verona, New York and televised live on HBO Boxing After Dark beginning at 11:00 p.m. ET/PT. The two athletes had their first face off during the Montreal press conference held earlier today.
Tickets for this highly anticipated matchup will go on sale January 24 at 1:00 p.m. ET/10:00 a.m. PT. Tickets for the March 11 HBO Boxing After Dark event are priced at $30, $45, $55 and $75 for ringside seats plus applicable fees and are available at the Turning Stone Resort Box Office by calling 315-361-7469 or online at Ticketmaster
(www.ticketmaster.com).
(Photo Credit: Eye of the Tiger Management)
Here is what the participants had to say at today's press conference:
DAVID LEMIEUX (36-3, 32 KOs), NABO Middleweight Champion:
"After all this talk, here we are. I'm so excited that this fight will finally be happening. We have big plans for 2017 and this will be the first step. I will make sure to take care of Stevens on March 11. Curtis Stevens came knocking on the wrong door.
"We didn't refuse any fight. Nobody ducked you. We wanted the negotiations to be fair. So here we are. The fight is on. I am going to be ready. This fight is not going to go your way. It's going to be a much harder fight than you are expecting. It's not going to end well for you. This is a fight where I am going to be well prepared for. 2017 is going to be a big year for me and Steven is the first step. Then I will have much bigger steps to take care of. I'm going to be victorious. I'm going to be vicious. It's a fight that all the fans will want to see. Stevens comes to fight. I come to fight. We'll see who is stronger, who takes the punches better. It's going to be exciting."
CURTIS STEVENS (29-5, 21 KOs), WBC Continental Americas Middleweight Champion:
"It should be an excellent fight. He comes to fight. I come to fight. It should be a move to move battle. You are going to want to see this."
MARC RAMSAY, Trainer of David Lemieux:
"This is a fight that boxing fans have been wanting to see for a long time. It didn't pan out before now due to administrative reasons, because David was going after bigger fish. The timing is perfect. This is a fight which guarantees fireworks. What we have here are two good fighters and two great punchers.
"David resumed training in the gym almost immediately after his last fight because we knew a date would be announced soon. We didn't waste any time and we are ahead of schedule in terms of our training program. We know Curtis quite well. He came over on numerous occasions for camps as a sparring partner. So we know what kind of challenge lies ahead and we expect David Lemieux to come up with a big win."
CAMILLE ESTEPHAN, President of Eye of the Tiger Management:
"This bout has been highly-awaited by boxing fans and we understand why. These are two athletes with explosive power, who have a high level of integrity towards their sport, and who are ready to face the best fighters. I can guarantee that there won't be any dancing, running or ducking on March 11. Only two guys that are for real, that will go toe-to-toe. I will bet anything that this will be the fight or the knock out of the year.
"I am very excited about David fighting in the middleweight division which is THE top division in boxing today, with all these talented and explosive fighters. Major fights are coming and this is great news for boxing. It's important that we offer quality fights to our fans and 2017 promises to be a spectacular year. We are proud to be part of such an event, on March 11."
KATHY DUVA, Main Events CEO and promoter for Curtis Stevens:
"Main Events has always put together fights that boxing fans hope to see. That is what makes the sport so interesting. We are very happy that this bout between David Lemieux and Curtis Stevens will finally happen and we are very excited about it."
ROBERT GASPARRI, Golden Boy Promotions Chief Operating Officer:
"The minute after David and Curtis fought on the Canelo vs Khan undercard, there was a buzz out there. These guys had to get into the ring. This fight had to happen. Everytime that these two heavy-handed fighters are on the ring, there are fireworks and it is always exciting. What a great main event it is going to be! David Lemieux vs Curtis Stevens has all the ingredients for a Fight of the Year candidate."
Professional media requesting credentials for Lemieux vs. Stevens must contact Kelly Abdo, Turning Stone Resort Casino Public Relations Manager at (315) 366.9291 or
kelly.abdo@turningstone.com.
Lemieux vs. Stevens is a 12-round middleweight bout for the NABO Middleweight championship, presented by Golden Boy Promotions in association with Eye of the Tiger Management and Main Events,and sponsored by "Tecate, BORN BOLD." The HBO Boxing After Dark telecast begins at 11:00 p.m. ET/PT.