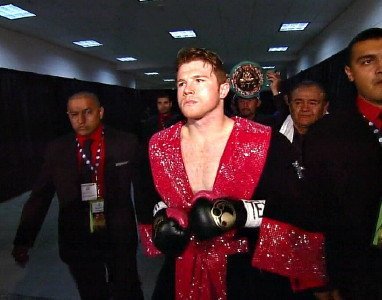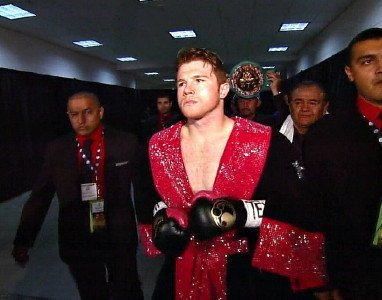 It looks like Oscar De La Hoya of Golden Boy Promotions is referring to WBA/WBC light middleweight champion Saul "Canelo" Alvarez as a "super hero" now following his controversial 12 round decision win over Austin Trout last month in a fight that Canelo appeared to be greatly helped by the open scoring, as well as some very, very generous scores by the three judges that worked that fight. A super hero that failed to prove that he's better than Trout.
De La Hoya said tonight on his twitter "Who wants to see this super hero [Canelo]? And with who?"
De La Hoya was immediately bombarded with people saying that Canelo should fight WBA middleweight champion Gennady Golovkin and that he should fight someone his own size [172 lbs]. That probably wasn't the answer that De La Hoya was hoping to get because Golovkin is a fighter that Golden Boy appears to be steering a wide path around him when it comes to matching Canelo up.
De La Hoya was obviously hoping that boxing fans would say that Canelo should fight the much lighter Floyd Mayweather Jr., who weighed in at 146 lbs. the night of his fight this month against Robert "The Ghost" Guerrero on May 4th. This was Mayweather's weight after he rehydrated. In contrast, Canelo's weight against Trout was 172 lbs. after Canelo rehydrated. That's 26 pounds heavier than what Mayweather weighed.
Canelo's fans say that it's not fair for Canelo to fight Golovkin because he's bigger than Canelo. The truth is Canelo, 5'9", is only an inch shorter than the 5'10" Golovkin, but Canelo actually outweighs Golovkin after he rehydrates for his bouts.
Why Golovkin is such a bad choice for Canelo is because he punches harder than Canelo and he works for the full three minutes of every round. He doesn't need a lot of rest breaks like Canelo, and he would force Canelo to work for the full three minutes unless he wants to get knocked out.
The argument made for Canelo deserving to win more rounds than Trout last month was that despite the fact that Canelo was out-landed in pretty much every round by Trout, he landed the harder shots. That argument would disappear if Canelo were to be matched against Golovkin because he punches harder than Canelo, and the judges wouldn't be able to single Canelo's fewer shots out as the reason to give him rounds.