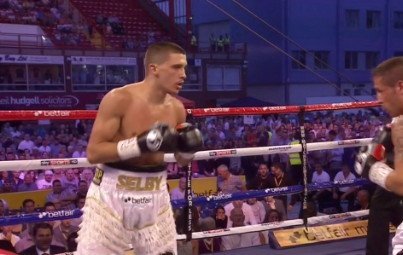 IBF 126 lb champion Lee Selby sits among a crowded featherweight crop on the world scene that includes the likes of Ukrainian amateur standout Vasyl Lomachenko, American Gary Russell Jnr and, as long as he can still make the weight, Jamaica's Nicholas Walters.
While the unassuming Welshman has no doubts about deserving his own place in the division among those names, he has no such confidence in domestic rival Josh Warrington's chances of achieving such lofty heights.
Warrington, who enjoys a fanatical base of support in his home City of Leeds, fights former Selby opponent Joel Brunker on his home patch on September 5th, and speaking to Sky Sports, Selby – who ended Brunker in 9 last October – thinks the tough Aussie could pull out the upset against the light-hitting Warrington.
"I can see Brunker upsetting the apple cart. The way I boxed him, with the movement, I didn't let him look as good as he is," he said.
"If you look at Brunker's previous fights when his opponents stand in front of him – as I think Josh Warrington will – he's a great fighter. I think he's capable of an upset. He's a very good fighter and I didn't let him box to his best.
"When Warrington comes up against proper world-class fighters, he'll get beat. He hasn't got the power, skill or boxing ability to keep a world -class fighter off him."
Selby won his title beating IBF fighter of the year Evgeny Gradovich in some style in May, outboxing the Russian until he was stopped on a cut in the 8th, and has promised that he will be ready to step up to face the best the division has to offer.
Sadly those decisions will be left to promoter Eddie Hearn who has shown a reluctance to match his star fighters & champions proportionately – IBF welterweight champion Kell Brook, who has been linked to Chris Van Heerden, Leonard Bundu and Diego Chaves, is a current case in point.
"I'm not going to be one of the champions who picks out the opponents. I'm willing to fight the best. You won't see me dodging anyone. I'm going to be a true champion and defend against whoever steps up." Selby said.
"The plan is to defend back home in Wales. I've built a good fanbase there and it'd be nice to give something back to the crowd because they've been travelling around to support me. If I can fight at home, that'd be brilliant."
If the Matchroom promoted Warrington gets past Brunker in September, expect Selby to fight him in a voluntary defence of his title. It won't be Lee's choice and he will seriously outclass Warrington, who would be better matched against Harrow Weald's big hitting 13-0 prospect Mitchell Smith, who destroyed Dennis Tuberion inside a round last month – weeks after the Filipino took Warrington the distance.
However that fight is unlikely to happen given Smith is with Frank Warren's Queensbury Promotions.
"The way I'd like to see my career go is to squeeze in two voluntary defences before my mandatory defence is ordered, which I think is going to be in March," Selby said.
Speaking about the big fights down the road, he signalled Vasyl Lomachenko as an ultimate target;
"Obviously you've got the likes of Gary Russell Jr, who is the WBC champion. I'd like to hold that title. Then you've got Vasyl Lomachenko, who is one of the biggest pound-for-pound stars of this era so I'd like to face those two and see how I get on.
"I'd probably like to face Lomachenko ideally because he's got the higher profile. They'd both be tough but I'd get more credit if I beat Lomachenko."
Twitter @Undilutedpoison