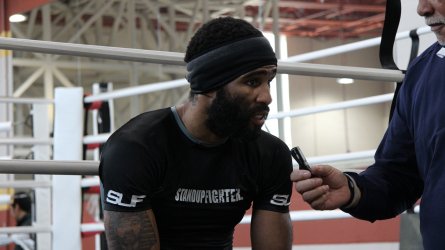 By Paul "Paparazzi" Jones & Justin Jones, Photo © Paul "Paparazzi" Jones
Washington, DC —January 25th marks the return of Lamont "Havoc" Peterson, 29, to Showtime® Championship Boxing (9:00 PM ET/PT; delayed on the West Coast). Peterson (31-2-1, 16 KOs), the reigning IBF Jr. Welterweight Champion, headlines the network's kickoff telecast in a 12-round title bout at the DC Armory (Washington, DC) versus undefeated contender, Dierry "Dougy Style" Jean (25-0, 17 KOs). Jermell Charlo (22-0, 11 KOs) and Gabriel Rosado (21-7, 13 KOs, 1 NC) round out the doubleheader in a 10-round Jr. Middleweight fight.
For Peterson, 2013 was nothing short of a rollercoaster ride, highlighted by a Golden Boy Promotions signing and successful title defense against Kendall Holt (28-6, 16 KOs). Much of this momentum dissipated, however, after a lopsided loss to hard-hitting, Lucas Matthysse (34-3, 32 KOs, 1 NC). Over three rounds, the Argentinean pounded Peterson, flooring him three times en route to a TKO stoppage. The lone consolation for the Peterson was that, despite losing the fight, he retained his IBF strap because the nontitle bout occurred at catch weight.
Jean, on the other hand, boasts an unblemished professional record and the IBF's number one ranking. In addition, he's the division's NABA and NABF titlist. Some boxing insiders even go as far as to characterize Jean, 31, as one of Quebec's biggest secrets.
For evidence of Jean's boxing ability, pay a visit to YouTube and watch his 4th round demolition of Cleotis Pendarvis (17-4-2, 6 KOs) in the IBF eliminator that paved the way for his bout against Peterson. Jean displayed the kind of speed, patience, and power that could pose problems for the DC native.
Fast-forward to next Saturday's Peterson-Jean tilt and it's easy to see the implications of this match-up for both fighters. A win for Jean would help to solidify his standing among the upper echelon of Jr. Welterweights. No longer would the Canadian-based fighter be operating under the boxing radar.
For Peterson, who turns 30 a day before the contest, a win could lead to a more lucrative fight against fellow Golden Boy stablemate and consensus divisional kingpin, Danny "Swift" Garcia (27-0, 16 KOs; WBA, WBC, RING Champion). A rematch versus de facto nemesis Matthysse, who was out-pointed by Garcia last September, is also a possibility.
The B-side of the card, which pits the emerging Charlo against the always game Rosado, has all the makings of an epic scrap. Though Rosado is 0-2 (vs. Peter Quillin [30-0, 22 KOs] and Gennady Golovkin [28-0, 25 KOs) with one no contest (vs. J'Leon Love [16-0, 9 KOs, 1 NC) in his last three fights, Charlo is taking a considerable step-up in his completion level by facing the battle-tested Philadelphian. Because Rosado has a clear experience advantage over Charlo, the young Texan will have to claim victory the old-fashioned way—that is, by earning it.
Bonus Coverage: Lamont Peterson holds Q&A Session with Eastsideboxing.com
During today's open media workout at Lamont Peterson's home gym, the Bald Eagle Boxing Annex (DC), the IBF champ sat down with EastsideBoxing.com to discuss his upcoming bout, future plans, and reflections on turning 30.
Eastsideboxing.com: "(Dierry) Jean has been talking to the media about what he's going to do [and] how he's going to cause you to have nightmares. Does that kind of talk bother you at all?"
Lamont Peterson (LP): "Not at all. Because regardless of what he says, he's gonna have to get in that ring and show me. Until he shows me, his talk means nothing."
Eastsideboxing.com: "Jean has also talked about how he believes that you may not have recovered psychologically from the Matthysse loss. Do you have any response to that?"
LP: "If that's going to help his courage to get in there with me then…O.K., good. But other than that, you know, I expect to be the same, if not better."
Eastsideboxing.com: "You're celebrating a birthday a day before the (Peterson-Jean) fight. Would this be the perfect birthday gift for you to win this fight?"
LP: "Yeah! A perfect birthday gift. Back in the winner's circle, back on track where I want to be. So, it would be the perfect birthday gift. No cake and ice cream until after the fight, but that'll be cool. I'll have two celebrations on January 25th."
Eastsideboxing.com: "Turning 30, usually that's a big point in someone's life. For some, it's a time of transition into a new phase of their life. Do you have any new plans or a new outlook on life as you approach this milestone?"
LP: "There's always changes in my life. I'm the kind of guy who (doesn't) stay in the same stage of life for long. I kind of progress pretty fast. A lot of people think or say that I act older than what I am. So, (life) is always changing for me. But right now, I'm kind of house-shopping. I had to put it on hold for the fight, but I'll continue to pick that up right after the fight. That's where my life is [and] I'm pretty excited about being a first-time homeowner."
Eastsideboxing.com: "Jean hasn't really fought much outside of Canada. Do you think that will play into this fight at all?"
LP: "I believe that (Jean) fighting outside of his comfort zone, on a big stage for a world title, and, honestly, fighting the most decorated fighter that he has fought will all be keys to victory for me. I think all of those things will give him somewhat of a problem. (Jean) can talk and say what he wants, but I've been in his shoes before and I know that there's pressure there and some uncertainty when you're preparing for a fight like this."
Eastsideboxing.com: "I know you don't want to look ahead. But assuming you win this bout, are you looking toward a Matthysse rematch or a bout with Danny Garcia? Are those fights on your radar?"
LP: "Yes, definitely. At the end of the day, I'm ready to move up to welterweight, but I really want to be considered the best 140-pounder out there. My perfect scenario would be to win (the Jean) fight on January 25th and (then) fight Danny Garcia. (Garcia)'s considered the best 140-pounder out there, and rightfully so. Winning that fight, possibly getting the rematch with Matthysse, and then moving to welterweight."
Eastsideboxing.com: "Speaking of welterweights, we all know who the kingpin and breadwinner of boxing is: Floyd Mayweather Jr. (45-0, 26 KOs). Is fighting Mayweather something you ever consider or have as a career goal?"
LP: "Yes. Before I retire, I would like to be considered pound-for-pound the best fighter. Right now, all roads to that goal lead through Floyd Mayweather. So, any chance that I get to fight him, I would definitely jump at it."
Eastsideboxing.com: "Thanks Lamont for your time and best of luck in your bout on January 25th."
LP: "No problem."
—Questions/Comments:
Contact Justin Jones: [email protected], twitter.com/jusjones29