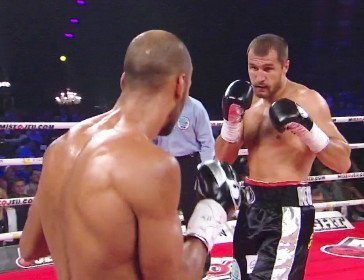 WBO light heavyweight champion Sergey Kovalev (23-0-1, 21 KO's) is expected back in the ring on March 15th in a fight in Moscow, Russia, according to RingTV. Kovalev's manager Egis Klimas says they want WBC light heavyweight champion Adonis Stevenson for that date, but it's not looking like he's going to accept that fight.
Kovalev wants to fight Stevenson, Bernard Hopkins, and Beibut Shumenov in order to unify all of the 175 lb. titles. Unfortunately, Kovalev's chances of getting any of those guys in the ring in 2014 are remote at best. Hopkins is a Showtime fighter, whereas Kovalev fights on HBO.
Speaking about the March 15th fight cards, Klimas told RingTV "I'm sure that it's going to be a top-ranked fighter by the WBO, whoever we're going to be facing next."
#1 WBO Andrzej Fonfara (25-2, 15 KO's) is a possibility for Kovalev's next fight. Fonfara, 6'2″, has victories over Glen Johnson, Gabriel Campillo, Samuel Miller, Byron Mitchell and Tommy Karpency in his last five fights. Fonfara would be a slightly decent test, probably about as good as Kovalev's last opponent Ismayl Sillakh. Fonfara didn't look very good in the Johnson and Campillo fights. He was better than those guys, but he didn't show the kind of talent that would suggest that he can compete with a puncher like Kovalev. He's not at that level, and he's very easy to hit. Probably about the best that Fonfara can give Kovalev is 4 rounds before he folds.
Kovalev has knocked out his last 7 opponents he's faced with only one of them making it past the 4th round. He seems to be getting better at knocking guys out as he matures. That's good for boxing fans, but bad for his opponents. The problem that Kovalev has is that the light heavyweight division isn't a very strong one, and there's not a quality once you get past Stevenson, Hopkins, Jean Pascal and Lucian Bute. Shumenov is a belt holder, but he's pretty much at the same level as Gabriel Campillo in talent and he wouldn't be competitive against Kovalev.