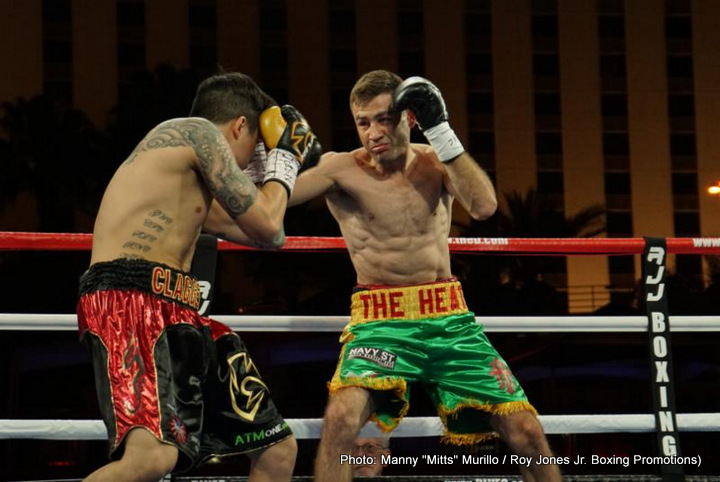 Very exciting and action packed line up of up and coming fighters this weekend presented by Roy Jones Jr. and The D in Downtown Las Vegas Event Center's outside arena, named "Knockout Night at the D." The outdoor event center is a more intimate and up close experience for boxing fans equipped with state of the art projectors, monitors and sound. The interesting thing about this line up of fighters were their nicknames. With fighters like The Rooster, The Dragon, The Heat, Spyda, Iceman, Durt Nap and more, fans were on the edge of their seats and very entertained all night.
The main event featured ten rounds of boxing with Steve "The Dragon" Claggett (23-4 16 KOs) against Chris "The Heat" Van Heerden (24-2-1, 12 KOs) in the welterweight match. Both fighters weighed in at 147, but Van Heerden had the obvious reach advantage. Coming out of Santa Monica, CA by way of South Africa, Van Heerden was the obvious aggressor, even being warned throughout the match about swinging low and hitting his opponent after he steps in to separate the two. A very focused fighter following every move and strategy yelled out from his coaches, he took Claggett to the tenth round defeating him in a unanimous decision.
"We are both winners. It's not easy to be here, we delivered," said Van Heerden after the match. "I want to thank Jesus Christ. The lord blessed me tonight because I did the work. We are both blessed by Jesus Christ baby!"
In the co-main event featuring Neeco "The Rooster" Macias (12-0, 6 KOs) against Limberth "El Galito" Pounce(10-3, 8 KOs), Macias defeated Pounce in the eight round match by unanimous decision scoring 79/73 by all three judges. Macias went to work keeping Pounce backed up on the ropes most of the fight. By the seventh round Pounce was leaking, only exciting Macias who was coming out of his corner with guns fully loaded. Pounce held on till the end but it was a serious struggle.
"This is the toughest fighter I have ever met," stated Macias after the match. "Of coarse I will do a rematch. If it's a good fight and the crowd wants it, bring it!. Macias started scratching his foot on the mat and clucking like a rooster in the middle of the ring before he made his exit. Sounds like he's truly living up to his nickname, The Rooster.
In the welterweight match between Errol "Spyda" Sidney Jr. (6-2, 2 KOs) and Malik "Iceman" Hawkins (7-0, 6 KOs), it was obvious early on that Malik was the aggressor and determined to come out of this match with a knockout. The fight lasted the scheduled six rounds, Malik defeated Errol with a sixth round TKO that sent Errol down on one knee. Errol was at a disadvantage by what seemed to be a wardrobe malfunction. He spent 75% of the match adjusting his belt and trunks, even getting caught off guard a few times with some jabs that could have ended the fight early.
"I'm ready for whatever my manager has for me," Malik said after the match when asked what's next for him. "I will do whatever my coaches tell me."
In the junior lightweight match between Randy Moreno (2-0, 1 KO) and Derik "Durt Nap" Bartlemay (0-3), Moreno out boxed Derik in the four round match. Derik was good at ducking and dodging but by mid third round he had taken a few rounds of head shots and uppercuts. Randy took a few shots during the exchange but not close to as many landed against Derik.
"One day I'm going to be up there," Randy stated when asked about his future as a big name fighter. And when asked when he plans to return, he stated, "I will probably be back in the ring by next month."
Jeremy "J-Flash" Nichols (3-0, 2 KOs) is starting out with an impressive undefeated streak in boxing as he defeated Jason "Gibbor" Gavino (3-2, 2 KOs) in the four round welterweight match by winning a unanimous decision. Another fighter of the night that lived up to their nickname, J-Flash entered the arena with a live rapper performing and walking him into the ring, along with many dances before, during and after the fight. It definitely was an interesting, entertaining and really good close fight. His combinations and jabs are amazing, and fast! He is someone you can expect to hear more of in the future. Gavino took some lethal and blew most of them off but overall J-Flash dominated the fight.
Sal Lopez (3-0) defeated Matt "The KO Kid" Murphy (0-3) in a four round junior lightweight match by unanimous decision. Both fighters were gunning for each other. Lopez has a mean uppercut but Matt was working him over with the body shots. "I need to avoid head butts," Lopez said after the match when asked what did he learn from this fight. "I need to move my head a little more."
Roy Jones Jr. along with The D produced a very action packed and exciting fight card from start to finish. Proof that boxing has never left the valley, it's only re-inventing a tradition that is brutal yet competitive, professional and organized. Boxing fans can get up and close to their favorite fighters, take pictures with ringside celebrities and champions, eat and drink all under the legendary downtown city lights and stars. This summer is sure to be action packed with more impressive events like "Knockout Night at the D."