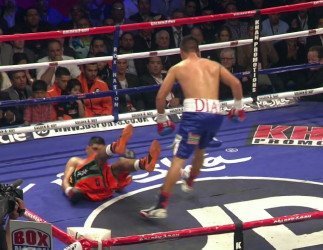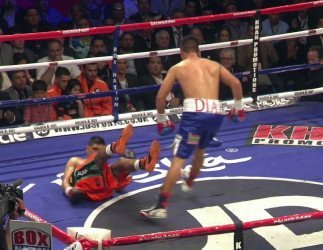 Former IBF/WBA light welterweight champion Amir Khan makes it perfectly clear that he doesn't have even the slightest amount of interest in facing fellow Brit Kell Brook at any time in the future.
Khan sees no upside in such a fight and fears that the boxing public wouldn't care about the fight and Brook would likely pull out of the fight with an injury excuse anyway. Khan's main interest is in getting a big fight against WBC welterweight champion Floyd Mayweather Jr. next year.
Khan said to ESPN writer Dan Rafael "I'm not interested [in facing Brook]…If I did agree to fight him maybe he'd pull out twice on me like he's done to Devon Alexander."
Khan is right. There's no plus in fighting Brook because he's not made a mark on the welterweight division and he missed out on his big chance to fight for a world title this year when he suffered a couple of injuries that caused him to lose out on a title shot against IBF welterweight champion Devon Alexander.
Khan has nothing to gain from a fight against Brook and he just needs to learn to ignore him because he's probably going to continue to call Khan out in the future until figures it out that there's no possibility for a fight.
As far as Khan's next fight goes, he could face the winner of this Saturday's fight between Lee Purdy and IBF welterweight champion Devon Alexander. Golden Boy wants Khan to fight Alexander, and if Khan wins that fight they would look to put him in with Mayweather in early 2014. That's a big ask for Khan to beat Alexander because he just struggled to get past Julio Diaz in a 12 round decision that really could have gone either way. Even if you felt Khan won the fight, it was still closer than it should have been. Diaz is a fighter that Khan should have easily beaten, but instead he hurt by him several times in a close fight.
If Golden Boy wants Khan to fight Mayweather then they need to make that fight soon because Khan will likely suffer another loss once he starts facing quality opposition again. He's already lost two out of his last four fights.