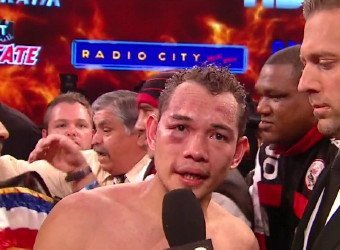 Top Rank promoter Bob Arum is saying that former IBF/WBO super bantamweight Nonito Donaire (31-2, 20 KO's) will be back in the ring in either October or November this year against a still to be determined opponent. It won't be newly crowned WBC super bantamweight champion Victor Terrazas because he'll likely be facing newly signed Top Rank fighter Vic Darchinyan.
If Darchinyan wins that fight then Arum would like to match him against Donaire in a rematch in 2014. Donaire stopped Darchinyan in the 5th round in 2007.

Donaire was supposed to be moving up to the featherweight division after having lost a 12 round unanimous decision to WBA super bantamweight Guillermo Rigondeaux last April, but there was talk of him getting in one last fight at 122 against Terrazas, the WBC champ. Now it's not known who Donaire will fight and at what weight.
If he wants to stay at 122 then he's going to have to work on his weight management because he looked huge and sluggish against Rigondeaux and he appeared too big for the weight class. It's now common for fighters to melt down from higher weights to fight in smaller weight classes to gain an advantage, but in this case it seemed to hurt Donaire because he didn't look like the same fighter.
It might be better for him to move up to featherweight to try his hand at that weight class. However, there aren't a lot of opportunities for him at that weight in terms of fights. With the Top Rank – Golden Boy rift, it's unlikely that Donaire will ever face Abner Mares.
He also won't fight WBO featherweight champion Mikey Garcia because he's a friend of his and they share the same trainer. That leaves only IBF featherweight champion Evgeny Gradovich and WBA champ Chris John. Donaire can probably beat John, but Gradovich would be a very tough fight for him because he's got a good chin and he can punch.
Donaire had talked about wanting a rematch against Rigondeaux after his loss to him, but he's since clammed up completely about that. It could be that Donaire doesn't like his chances in a rematch, and I don't either. I think Rigoneaux beats him no matter times they fight.