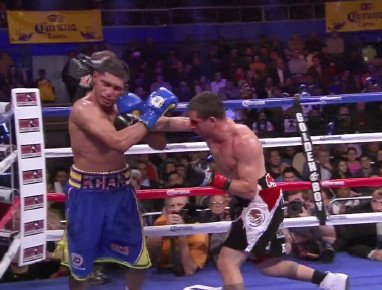 Former IBF/WBA light welterweight champion Amir Khan (29-3, 19 KO's) hasn't given up on his desire to try and get a fight against Floyd Mayweather Jr. Khan sees himself having a good chance at getting a fight with Mayweather next year in May. Khan took himself out of the running for Mayweather's September 13th fight due to Ramadan.
Khan plans on fighting in November or December against a still to be determined opponent. It's going to need to be someone good for him to proclaim that he has earned the fight to fight Mayweather. With 2 losses in his last 5 fights, and no wins over anyone relevant, Khan doesn't have a good case that he should get a fight against Mayweather. He still needs a live body and not someone pulled out of the graveyard to fight just so that he can get an old scalp with a name attached to it.
"The fight between me and Floyd Mayweather is going to happen," Khan said to Sky Ringside. "The next time it could happen is in May. I can fight then so I could be Floyd's next fight after September."
Khan would do himself a huge favor by taking on someone relevant in his next fight in November or December instead of another old name from the past. In Khan's last two fights, he's taken on aging fighters that are largely no longer relevant in Luis Collazo and Julio Diaz. Collazo was a name 6 to 8 years ago, but he stopped facing the quality fighters after a loss to Andre Berto in 2009, and kind of disappeared for 5 years from taking on high quality fighters.
If Khan's adviser Al Haymon take a risk with him by letting him fight someone that's actually still good like Keith Thurman or Shawn Porter, Khan could very well get the Mayweather fight in May of 2015. But if Khan is going to be matched up with weaker guys in order to keep him winning long enough try and pressure Mayweather for a fight in May, it's probably not going to happen.
Khan's wins over Collazo, Diaz and 5'5" Carlos Molina just aren't big enough victories to get boxing fans excited about a Mayweather-Khan fight right now. Since his back to back defeats at the hands of Lamont Peterson and Danny Garcia, Khan has had essentially tune-up fights, and he has yet to put himself back in with the real quality in the welterweight division.
The good thing is if Khan fights one of the top fighters at least he'll know if he belongs in the ring with Mayweather. If he gets weeded out by Porter or Thurman, then he'll understand that he's not at a high enough level to get a Mayweather fight. But until Khan actually fights someone that is still good, and not an aging guy from then past, he'll never know if he deserves to be in the ring with Mayweather or not.