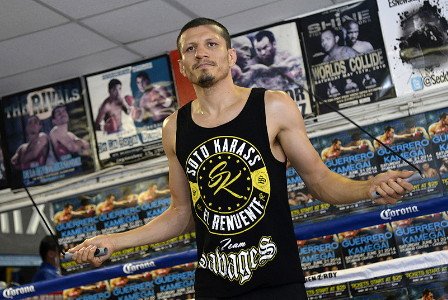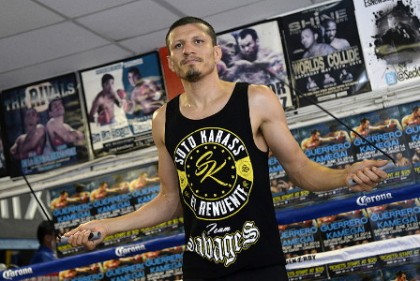 (Picture credit: Hogan Photos) 31-year-old Jesus Soto Karass (28-9-3, 18 KO's) plans on taking the fight to former IBF welterweight champion Devon Alexander (25-2, 14 KO's) in their scheduled 10 round fight this Saturday night at the StubHub Center in Carson, California.
Soto Karass has a good blueprint to follow in how to beat the 27-year-old Alexander by following what Shawn Porter did by coming at Alexander and mugging him on the inside for 12 rounds. #6 IBF Alexander is a good fighter on the outside, but Porter exposed him as having just rudimentary skills on the inside in giving him a pounding in the process of winning a 12 round last December.
Soto Karass is an excellent inside fighter in the Robert Guerrero mold, and he's quite capable of giving Alexander problems if he can keep him pinned to the ropes all night long the way that Porter did.
"My mindset is, I have to put a beating on him," Soto Karass said. "This is it for me; it's do or die. I'm very confident in the work I put in and with my conditioning, but I know I have to win this. Alexander is a good fighter. But he's not going to change his style. I know I have to go in and take it to him. I can box, too, but to make this fight exciting I have to pressure him and make him fight my fight."
It would be in Soto Karass' best interest not to get caught in a boxing match with the faster Alexander, because he doesn't have the same hand speed as him, and his jab and footwork isn't nearly as good as his. Soto Karass is much better off forcing the fight to the inside, and then fighting through Alexander's attempts to tie him up all night long the way he did Marcos Maidana in their fight in 2012.
Soto Karass will need to keep clubbing Alexander while he's being tied up otherwise Alexander will likely initiate 10+ clinches per round to keep Soto Karass from getting his shots off on the inside.