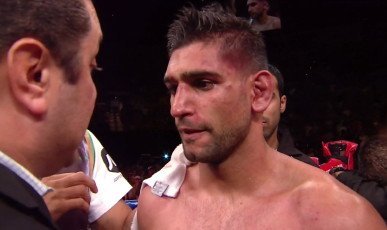 By Michael Collins: Former IBF/WBA light welterweight champion Amir Khan says he'll be making an announcement about his next opponent for April this week. He's meeting with Golden Boy Promotions CEO Richard Schaefer in the UK to pick from one of the following fighters: Victor Ortiz, Josesito Lopez and Vyachaeslav Senchenko.
Khan said to Sky Sports "There are several opponents we're looking at. A lot of people are talking about Josesito Lopez, Victor Ortiz, Senchenko, the guy that beat Ricky Hatton. There are few names that we have been put there. I'm one of those fighters that will fight anyone. I never said no to an opponent and I never will. Whoever they find for me, we'll find out in the next couple of days. I have to meet with Richard Schaefer and we're going to talk about an opponent. So the next couple of days we're going to announce who I'll be fighting."
I don't care to see Khan fight Josesito Lopez. I'm not that interested in seeing Khan fight a guy that was just destroyed by WBC junior middleweight champion Saul "Canelo" Alvarez. I don't care that Lopez beat Victor Ortiz, I still don't like the idea of Khan fighting someone that was beaten as badly as Lopez was. I'd prefer to see Lopez rebuild his career before fighting someone because it's just off putting to see Khan get fed a guy coming off of a knockout loss.
Khan vs. Ortiz is somewhat interesting but even that fight isn't that great. Ortiz was beaten by Lopez in his last fight last year and had his jaw broken in two places. It's not interesting to see him an important fight coming off of that loss. A lot of people see Ortiz as a quitter, and it's just not ideal for Khan to be fighting this guy. Senchenko was stopped by Paulie Malignaggi last year in April in a fight where Senchenko suffered a swollen up left eye. Senchenko came back in November and defeated Ricky Hatton, but that was a ring rusty Hatton and Senchenko didn't look that great.
I see these as safe picks for Khan because all three of these guys are flawed and haven't shined recently.