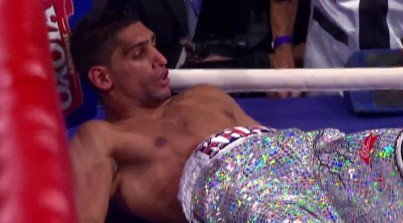 By Michael Collins: Former IBF/WBA light welterweight champion Amir Khan says he's going to be checking New York to try and find a trainer and possibly a mentor to get his sagging career back on track following consecutive losses to Lamont Peterson and Danny Garcia. Khan wants a trainer that can fix his defensive flaws to try and turn things around for him before he gets whipped again.
Khan said to the Manchester Evening News "I'll be going to New York to speak to a few coaches."
Khan then oddly compared himself to Manny Pacquiao, saying "If we had the defense we should have had we would be the best fighter in the world. That's the downfall of me and Manny Pacquiao. We're both offensively the best fighters in the world, but defensively we're not the best."
That's a bit too much coming from Khan. The best in the world? I think Khan is dreaming here. I think he would be a lot better fighter if his defense was tighter, but that wouldn't save him from getting knocked out by the likes of Danny Garcia and Breidis Prescott. The shots that Khan got hit with in those fights were punches that even the best defensive fighter would get hit with. Khan was staggered by a jab from Prescott. How do you avoid getting hit with a jab for 12 rounds? Sooner or later, Khan is going to get hit and once that happens it doesn't matter anymore how good defense is. He'll be in trouble. That's a kick seeing Khan refer to himself and Pacquiao in the same breath. That's comedy at it's finest.
It is good news that Khan won't be fighting 36-year-old Guzman, because that would have been an awful fight. It might be a toss-up actually, but it's hard to get excited about seeing Khan fight a guy that hasn't had a big fight since 2010. I'd much rather see Khan fight someone a little more relevant at 140. I wonder who these three fighters are that Khan and his promoters at Golden Boy are looking right now? It's likely someone without much power that won't be a threat to knock Khan out again like he was in his last fight against Danny Garcia.