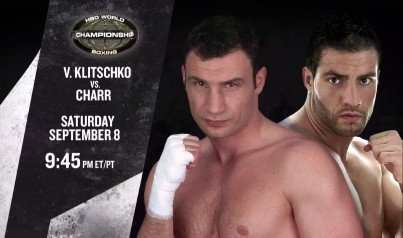 By Rob Smith: 41-year-old WBC heavyweight champion Vitali Klitschko (44-2, 40 KO's) will be defending his World Boxing Council title on Saturday night against the unbeaten and highly ambitious #7 WBC Manuel Charr (21-0, 11 KO's) at the Olimpiyskiy, in Moscow, Russia. Vitali has picked out an opponent with an unbeaten record but with little real substance to it. Charr is unbeaten but he's not fought anyone in the top 15, and he struggled badly against a past his best Danny Williams and also against journeyman Zack Page.
With this possibly being Vitali's last fight of his career it's disappointing to see him pick out the 27-year-old Charr to fight instead of someone a little more talented like Denis Boytsov or Kubrat Pulev. Never the less, Vitali's German fans watching the fight on television, as well as the Russian fans in Moscow, likely won't care that Vitali is taking a soft touch in the incredibly slow Charr to beat up instead of someone that can give him a decent fight.
There's a possibility that if Vitali gets past Charr in one piece without struggling he could end up facing former WBA heavyweight champion David Haye in late December or early 2013. The chance is there but it's still more likely that Vitali hangs up his gloves and goes into politics in Ukraine. To be sure, Vitali will be missing some huge paydays if he retires now but he's already got enough money to where he really doesn't need to continue fighting for the sake of just making more. Additionally, Vitali will be well paid as a politician if he win the seat and hold onto it for any length of time.
Charr has good power and he's an excellent pressure fighter to boot. However, he's reminds me of a slower, weaker version of Ross Puritty when you take away Purity's powerful left hook, right hand and stiff jab. Charr can punch but he doesn't power like Puritty. Vitali easy work in battering and stopping him in the 11th round in December 2001. Although Vitali has aged a lot since then, I have a feeling he'll have an easy time taking care of the slow moving Charr on Saturday night. Charr is like a big punching bag that moves.
The Charr-Vitali fight will be televised on HBO this Saturday along with a split site fight between WBA/WBC super middleweight champion Andre Ward and Chad Dawson at the Oracle Arena in Oakland, California.
On the undercard of the Vitali-Charr fight will be journeyman Jameel McCline facing heavyweight contender Magomed Abdusalamov.