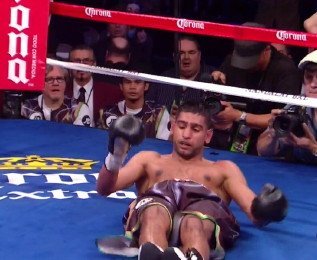 By Mark Klimaszewski – Olympic-silver medallist. Former two-time world champion. Former unified world champion. Arguably a top 15 / top 20 pound-for-pounder (depending on who you ask, of course).
Several "fight-of-the-year" type battles (and some solid names) on his resume. A consistent desire to fight the best. A warrior's heart. A glaring vulnerability (the much derided 'punch resistance', or lack of, that arm chair critics are always so quick to point to) which makes him exciting to watch. Seldom in a dull fight.
On paper, Amir "King" Khan sounds like the type of fighter who should receive unprecedented adulation from fight fans. Yet he attracts more hate than almost any other active fighter today. It is a surprising fact; but a true one. Many people who I speak with about the sweet science all share a desire to see Khan get knocked out again. Many fans on internet message boards and what have you, wish nothing more than to see Amir taste bitter defeat once again and leave the sport for good!
From a neutral perspective this is very, very harsh. Amir Khan has dedicated his life to boxing and has earned some great accolades along the way. To yearn for him to be beaten and leave the sport he has spent so long contributing to, is very cold by anyone's standards.
Khan's detractors say he was cleverly managed by Frank Warren in the early part of his career. Yes, he was. But from a business perspective it was necessary. Any boxer in the history of the sport has to take those tentative early steps in a pro career with caution. Experience can only be gained by plying the trade and getting rounds under the belt.
The Antonio Barrera fight was a classic example of excellent match-making on Warren's part. Of course, anyone with any knowledge of the sport knew Barrera was past it. Way past it and fighting above his natural weight. The fact that a nasty cut caused him to lose half of his field of vision made it an easy night's work for Khan. Indeed, the fight should've been stopped before it actually was (ruling it a no-contest) but the fact it was allowed to carry on just long enough to secure Amir a 'stoppage' win (officially ruled a Technical Decision)was questionable. And yes, from a boxing fan's point of view it was heartbreaking to see such a revered legend treated in such a way during a fight he was destined to lose from the start. Understandably Khan didn't receive much credit from true boxing fans following that win. But from a business perspective, Khan's resume had a 'name' on it that over the years (and in retrospect) would be just that. The politics and controversy would all be forgotten.
Khan's detractors say his offensive flash-flurries are eye catching but ultimately he looks amateurish. Despite having a superb jab and range that should fundamentally dictate his fights for the most part, Amir is a tad overzealous on the offensive at times and thus leaves himself wide open for anyone who can time him right. Naturally, several of his opponents (including his two recent victors), have done just that. His footwork isn't great and too often his heart writes cheques that his ring IQ can't cash. Always trying to prove his doubters wrong his willingness to mix it up with fighters who are stronger (and or tougher) than him only works to his detriment. Whilst it gives the fans a lot of much loved excitement and entertaining wars, it isn't good for Khan. The type of fights he has engaged in over the last few years will ultimately shorten his career, not just because of the setbacks that he has experienced from the losses he recently incurred; but his general wear and tear as a fighter will suffer too.
Still, as fight fans this should not be a problem. We all love fighters who are willing to go out on their shield and give us entertainment over their own personal safety (as morally wrong as that sounds). So, nothing we have touched on here is enough to warrant all the ill feeling towards Amir.
Many people feel that it boils down to one despicable thing. Racism. Whilst I don't think racism is to blame entirely, there could be some truth to this. Reading some of the boxing forums can be quite shocking in how offensive and feral some posters are. Indeed, racism is prevalent in all sports and fans of a certain stature will attach it to anyone they take a dislike to. There is definitely some of this involved with Khan's naysayers but I believe it is a small minority.
Most people believe Khan's biggest flaws lie with his mouth; or rather his choice of words. Arrogant, deluded, punch-drunk. Just some of the tags people have put on Amir. His recent quote that he and pound for pound great Manny Pacquiao are "the best offensive fighters in the world" is a quintessential example of Khan's mouth running away with itself. Although he is pretty much right about Pacquiao, to mention himself in the same breath and in this particular context (especially coming off two losses to blatant underdogs) comes across as a little bit preposterous. Arrogance is nothing new in boxing. Many, many fighters in the annals of the sport have been known for having a big mouth. There are lots of active fighters today who love to talk.
This is all acceptable when these athletes are putting their lives on the line in the ring for our entertainment. Indeed, who are we- the spectators- to question their choice of words at all? It's even more admirable when these fighters back it up with sterling performances. No, this is nothing new in boxing, so why does Amir Khan's brand of "arrogance" stir up so much disdain?
In my own humble opinion, I believe Khan's biggest fault has been his penchant for looking past his opponents and his "blame others" mentality. If a fighter wants to talk a lot before a fight then fine, but if that fighter doesn't come up with the goods as he predicted then he has no one to blame but himself. If a fighter is that confident going into a contest that he believes he will knock his opponent out, then clearly there are no issues. No issues- until it goes wrong. Upon tasting defeat, that boxer then blames his coach, his training programme, the people around him; if these factors were all in question before the losses then why was Khan talking non-stop about how he was ready to face Floyd Mayweather Jr?
Amir Khan has become a superstar in the sport of boxing. HBO love him, Golden Boy have boosted his profile in the United States no end, and lots of fighters around his weight class have called him out to try and better their own career. He has made a lot of money and headlined some big events. Unfortunately, the price of success means there's always an army of people waiting for you to fall. More so in boxing than in almost any other sport. Amir's willingness to utilise the media, in all it's forms, has a backlash effect on him and things said in haste have been thrown back at him with venom.
Indeed, his quest for a new trainer has been much publicised and his desire to improve defensively is a much needed one. It's not too late for Khan to rise to glory once again. He has the ability, he just needs the level-headedness and ring savvy to pull it off. A good win against a solid opponent, one where he can show improvements in his defensive game, is essential for the public's faith to be restored. Who he chooses to train him from now on will be anyone's guess, but Khan needs to stay grounded and work his way back up the proper way. No excuses. No trash talk. Just a workman-like ethic and a more focussed, tighter combat strategy could be enough to propel him to the top of the pile. Learn from the losses, accept the flaws displayed in those fights and climb that ladder once again. Whatever his detractors think, Amir Khan is one of the sport's most exciting active fighters and love him or hate him, millions will be tuning in to watch him fight. Let's hope he can learn from his mistakes and come back stronger.