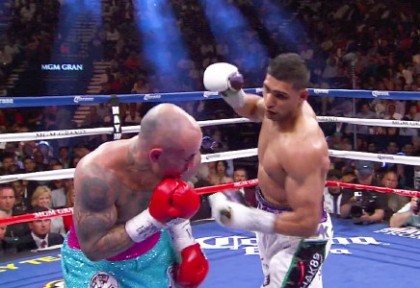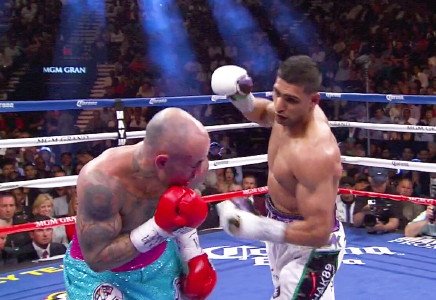 Amir Khan says that besides Floyd Mayweather Jr and Manny Pacquiao, he'd like to add Tim Bradley and Juan Manuel Marquez to the list of guys he wants to face in the near future. Khan has been after a fight against Mayweather for ages now, but he's not been fighting the preliminary guys that would get him the Mayweather fight unfortunately.
Instead of fighting big punchers like Kell Brook, Keith Thurman and Shawn Porter, Khan has been fighting the likes of Carlos Molina, Julio Diaz, Luis Collazo and Devon Alexander. This has led to Khan not picking up the name recognition in the United States that he needs for him to lure the likes of Mayweather to fight him.
"When I finish boxing, I can sit back and say I've fought the best. I want to add Mayweather, Pacquiao, Marquez and Bradley to the list," Khan said on his Twitter.
I'd have to say the chances of Khan getting fights against Marquez, Bradley and Mayweather are slim and none. Marquez is wrapping up his career at this point and he's only looking for guys with world title belts in their possession.
Khan as of now is belt-less, and it doesn't look like he's going to be picking up a title anytime soon. Bradley is looking for big names like Miguel Cotto, Mayweather and Saul "Canelo" Alvarez to fight. He's not going to fight someone who doesn't bring big money unless it's a Top Rank fighter.
Of the names that Khan mentioned, Pacquiao would seem like the most likely of the bunch to take the fight with him, but that's largely because Pacquiao has run out of names for him to fight in his promoter Bob Arum's Top Rank stable. But it's still a fight that won't happen unless Pacquiao can't get a fight against Mayweather in 2015. If Pacquiao can get that fight then there's no way he'll waste time fighting Khan.
Khan's adviser Al Haymon might not be agreeable to him fighting the Arum promoted Pacquiao or Bradley. Haymon is the one that makes the fights for Khan, and he could choose not to green light a fight between him and Arum's fighters. If that's the case, then Khan can pretty much forget about Bradley and Pacquiao.