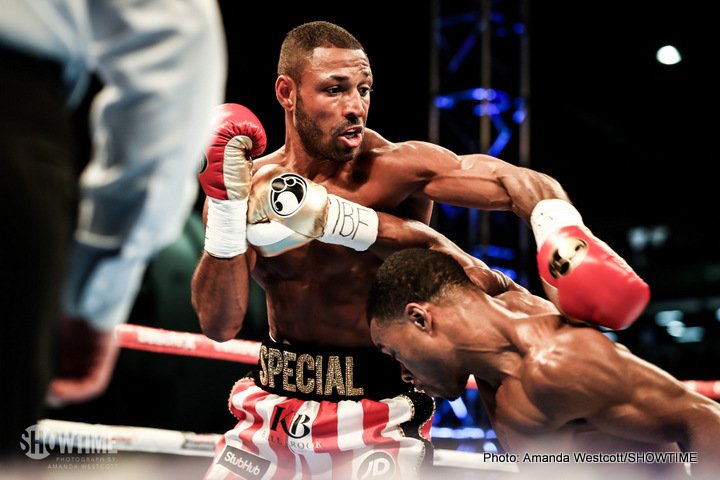 Former IBF welterweight champ Kell Brook says he is "flying" right now, ahead of his December 8th fight with Michael Zerafa, and any thoughts some fans may have that Brook's sole remaining big fight is the in-the-works clash with Amir Khan can be ruled out. Brook, as ambitious as ever, told The Sheffield Star that he aims to beat Zerafa, 25-2(14), then take on and defeat countryman Khan – and then go for return fights with Errol Spence and Shawn Porter. And if that isn't enough, Brook says he is also aiming to fight Keith Thurman and Danny Garcia.
Brook is adamant his days as a top class welterweight have not come to an end.
"The way I am feeling now, I want to beat this kid, then Khan, then I want a rematch with Errol Spence," an upbeat Brook told the Star. "I want a big fight with Shawn Porter and the other big names like Keith Thurman and Danny Garcia……I can come back to welterweight. I am light, now, I am flying. It's like I have been reborn."
A while back it was thought Brook's career as a welterweight had indeed come to an end, with the former champ moving up to 154 after having struggled so many times to make 147. But now, with new trainer, former pro John Fewkes, Brook has evidently found the fire and the desire once again. It's a lofty set of goals Brook has set himself, and in truth he will be lucky to get even a couple of the big names he mentioned, much less defeat them.
Brook should be able to dispatch the little-known Zerafa okay, and maybe he can beat Khan (the talked of date for this fight is a very lightly pencilled in March 23) – but can Brook get in there and avenge his stoppage loss to Spence? Can Brook beat Thurman, Porter – in what would be a rematch of a fight that Brook did win, to become champ, seemingly an age ago now – and Garcia?
Still a big name, the knock on Brook is the fact that he has twice suffered facial damage, with broken bones, in his two losing fights – to Spence and to Gennady Golovkin. Will Brook's face hold up should he face an elite puncher again? It's great that Brook has re-found his zest for the sport, but he would be a pretty big outsider against all the names he listed aside from Khan.
Let's see how Brook, 37-2(26) gets on with Zerafa, and then Khan.