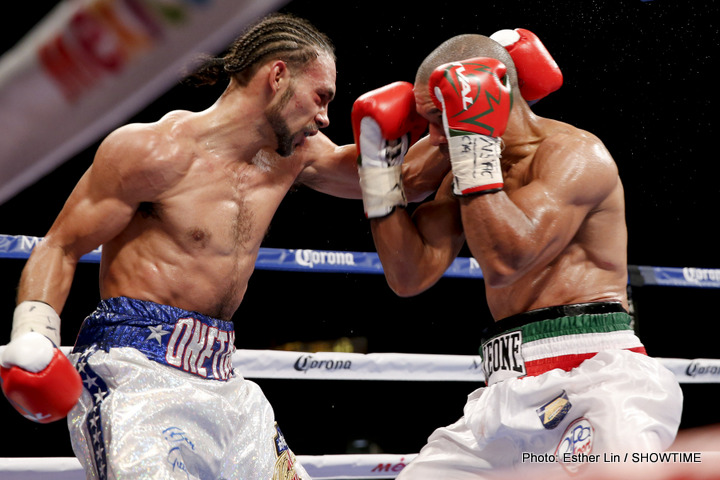 Undefeated American welterweight and WBA (reg) champion Keith Thurman has spoken to iFLtv in Las Vegas ahead of tonight's massive showdown to talk about the contest and his own career.
The Dan Birmingham trained fighter, who beat Robert Guerrero in March at the MGM Grand in what was a career best win, was honest and direct as ever throughout the interview.
Of tonight's massive showdown, the Florida man said;
"I'd definitely say that hands down this is the biggest fight of our generation. This is a beautiful fight – a terrific fan friendly fight. The fans have been wanting this a long time. I'm just happy to be here and be a part of history."
Explaining his own fight pick "One Time" said;
"I've gotta go with Mayweather. He's skilled, he's intelligent and I don't know if Manny Pacquiao is gonna have what it takes to out class Floyd in that ring. (In fact) I don't think he is going to be able to out class him. I think his only option is to go in and hurt Floyd – and with that – he cannot step in that ring and show Floyd too much respect. If Manny Pacquiao respects Mayweather then I think it's gonna be an easy night for Floyd."
Asked if he felt that Robert Guerrero is the best name on his resume Keith said;
"I guess you could say that, man. I almost thought Quintana was a great name when I fought him but some people say he was too far gone and you know, he retired after the fight but Guerrero is a great champion – (but) to me, I knew he was nothing to me 'cause he's not a true welterweight."
"I saw him beat my buddy Berto but I had a lot of faith and confidence seeing how he wasn't able to do anything to Floyd. He doesn't like fighters that move – but at the end of the day I knew that I was a lot stronger than him and I pretty much knew the fight was going to end in the way that it did." (UD)
Thurman, who impressed me with his focus in that fight after sustaining an ugly forehead swelling spoke of his current status as WBA (reg) champion. He said;
"They been calling me champ since I was a kid man. I care about where I am more than the overall title. The fact that Boxrec has me #3 in the world – you look on Boxrec it says Floyd Mayweather, Manny Pacquiao and Keith Thurman."
Displaying his sense of humour he said;
"The Ring has me at number 5. I'm a little upset they got Amir Khan at number 4 but you know – I'm a have to send them an email or something!. It is what it is."
On Khan, of whom Thurman is fiercely critical, he said;
"If anything it gives me an excuse to knock him out of that ranking and make a fight happen."
Of Khan's much slated May 29th clash with light punching Chris Algieri, Thurman continued;
"I didn't know there was more than one cherry-picker in the welterweight division. We know Floyd picks his fights but I didn't know that Amir Khan was that much of a cherry-picker."
"Once again, Amir is overrated as a welterweight. He's not fighting any true welterweights, he's not stepping in with no real competition. To me he's being sheltered."
"I'm not gonna be a true hater. I'm just gonna let you know how I feel."
Thurman, who enjoys a large base of support in the UK has previously stated on many occasions that he is prepared to travel to the UK for a fight with Khan or IBF 147 champion Kell Brook.
Of Thurman's own plans and a potential clash with Brook, (who is next out at the end of the month) he said;
"I just started camp. I'm looking to be out again in July. I know the fans wanna see me fight (Brook) but for myself I fought in December, I fought in March – both 12 rounders that went the distance. I suffered the headbutt and figured June was possible but I told Al (Haymon) I wanted to hit the brakes and I'll accept a date in July."
"I'm 26 years old, I ain't going nowhere. I'm gonna be around a long time and we're gonna make some of these fights happen."
"I've talked about Kell Brook and he's talked about me before. The only person who doesn't wanna talk about me is his manager. At the end of the day, whenever they ready, they know how to make a phone call over here."
"Of course I'm willing to travel (to the UK) man I got power baby! We can go anywhere in the world and drop bombs!"
In a final message for the British fans which signals his intent to make the fight;
"I would love to come over there and fight your boy Special K and hopefully we can make that fight happen some time this year – possibly in December."
A treat for the fans that would be.
Thanks for reading
Twitter @Undilutedpoison