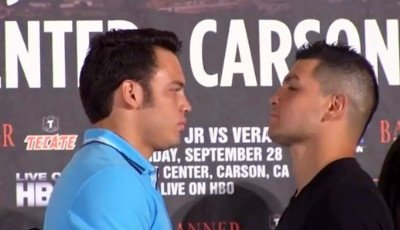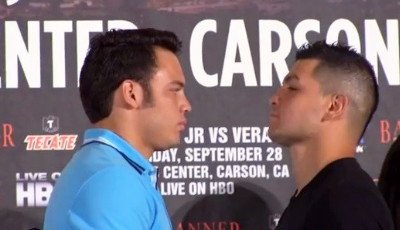 Julio Cesar Chavez Jr. (46-1-1, 32 KO's) may have lost his last fight against Sergio Martinez by a lopsided 12 round unanimous decision, but he's back on HBO this Saturday in a fight at 168 against middleweight contender Brian Vera (23-6, 14 KO's) at the StubHub Center in Carson, California.
HBO no doubt is hoping that Chavez Jr. will put in an exciting fight against Vera, but it's just too bad that they didn't press for Chavez Jr. to fight an actual super middleweight for this fight instead of a smaller, lighter middleweight.
Putting Chavez Jr. in with Vera increases the chances tenfold that Chavez Jr. will win the fight. If they had Chavez Jr. fighting a good super middleweight, then it would probably not go too well for him.
Chavez Jr. is one of those guys that do well when he has a huge weight advantage over his opponents, and in putting him in the 168 lb. division, the weight advantage isn't quite as much.
Vera, 31, guarantees that the fight will have a lot of slugging and very little in the way of defense. It's just too bad that HBO didn't push for Chavez Jr. to fight someone a little better than this.
Vera has a massive amount of losses on his resume against fighters like James Kirkland, Craig McEwan, Isaac Rodriguez, Max Bursak and Andy Lee. However, Vera has won his last four fights in beating Taronze Washington, Sergio Mora, Sergey Dzinziruk and Donatas Bondorovas.
The problem is those guys aren't great fighters, so it's not a really a big deal that Vera beat them. Vera is still pretty much the same fighter that Andy Lee schooled in their rematch 2 years ago in October 2011. The only difference is Vera has had 4 easy fights since then to pad his record.
Chavez Jr. definitely needs to win this fight if he's to keep in the hunt for a rematch against WBC middleweight champion Sergio Martinez. Even if Chavez Jr. does beat Vera, there are huge questions whether Chavez Jr. can even get back down to 160 to fight Martinez. Chavez has looked huge recently, and for him to be able to drain down to 160, he's going to have to lose a lot of water weight to make it happen.
Can Chavez Jr. do this? He probably can, but he's likely going to be too weak to beat Martinez, and he'll end up getting out-boxed a second time. It might be smarter for Chavez Jr. to forget about the middleweight division, and move up to light heavyweight instead.
Even at super middleweight, Chavez Jr. is huge for the weight class, and he might end up draining himself just trying to fight at this weight. He's better off moving up to 175 and that way he can drain down from 200 and face smaller light heavyweights.