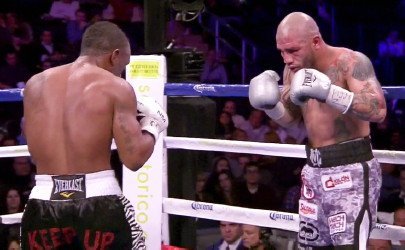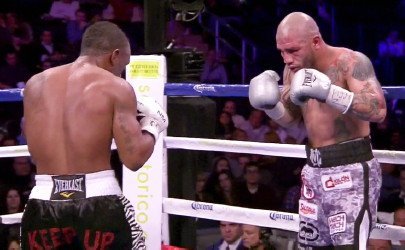 Miguel Cotto's new trainer Freddie Roach is bringing the 32-year-old Cotto (37-4, 30 KO's) back to the basics to beat #4 WBA, #9 WBO, #11 WBC, Delvin Rodriguez (28-6-3, 16 KO's) on October 5th at the Amway Center, in Orlando, Florida, USA. Roach thinks that if only Cotto starts throwing more body shots, it'll enable him to get past Rodriguez and start winning more of his fights.
The truth is Cotto can probably easily beat Rodriguez even if chooses not to throw one body shot the entire. Rodriguez is not on Cotto's level, and he's pretty much just the sacrificial lamb being brought in to end Cotto's 2-fight losing streak. The worry here is that if Cotto can't even beat Rodriguez or can't beat him in a convincing manner, then Cotto and Roach are going to have to face some hard truths about where he can go from here.
Cotto has losses to Austin Trout and Floyd Mayweather Jr. in his last two fights, but if he loses to Rodriguez, it's a good sign that it's over for him. Of course, that doesn't mean Cotto will retire. I'm sure he'll keep fighting until the bitter end, but a loss to Delvin Rodriguez will be a big hint that Cotto should seriously consider hanging up the gloves.
Roach said "I watched the Trout fight, and we talked about why he thought he lost that fight. He thought he wasn't busy enough, and I want to bring back that work to the body – his bread and butter."
Cotto is right about him not being busy enough in the Trout fight, but it's not realistic to imagine Cotto being able to get more out of his body than he already is. Cotto has stamina problems, and that was a big part of the reasons why he lost to Mayweather and Trout, among other fighters. But Cotto isn't going to all of a sudden change that simply by identifying that as his problem. Cotto has had stamina problems since earlier in his career, and it's not going to change now that he's about to turn 33.
Throwing more body shots is a definite plus for Cotto, but he's going to have to take a lot of hard shots to the head to get in position to land those body punches. Against a fighter like Rodriguez, it's no big deal. But once Cotto starts fighting good opposition again, then he's going to pay the price whenever he looks to land one of his big left hooks to the midsection.