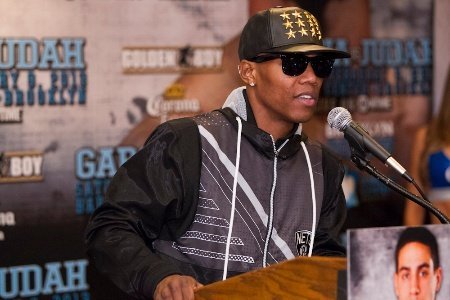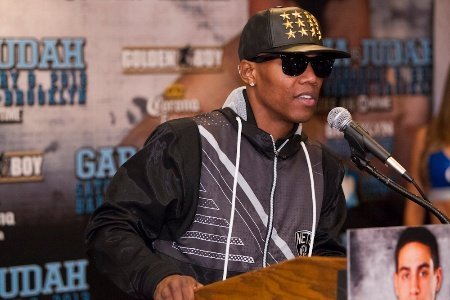 By Jeff Sorby: Former two division world champion Zab Judah was ready to give WBA/WBC light welterweight champion Danny Garcia the benefit of the doubt that he had suffered a rib injury and that he wouldn't be able to face him on February 9th in their previously scheduled out at the Barclays Center in Brooklyn, New York.
However, after hearing an interview at theKoncretejungle.com by Garcia's chief sparring partner DeMarcus Corley, who said that Garcia injured right thumb, not his ribs, Judah is now wondering why Garcia mentioned a rib injury as his excuse for not being able to fight him.
Corley said Garcia hurt his right thumb when Corley blocked a right hand from Garcia during a sparring session. Garcia then had to ice his thumb and it continued to give him problems all week. Corley said Garcia went to the doctor to get his thumb treated, and when it became clear that the thumb wasn't going to heal in time for the February 9th fight with Judah, Garcia then postponed the fight.
Judah had this to say after hearing the interview by Corley: "There's something fishy going on here!!! Look at his thumb. He's a lying piece of crap and it's wrapped in pink. Everybody keep ya eyes open. They play a dirty game!! Man, what is ribs? Thumb? Neck? Back? Heart? Hand? Danny Swift, tell us. The people wanna know. We care for you! LMAO, you faker!"
This is pretty funny, but Judah definitely has a point about the confusion over which injury it is Garcia is suffering from. If it's his thumb, then why Garcia said it was his ribs? There's a photo of Garcia with a pink wrapping around his right thumb. If that's the problem then it's hard to understand why Garcia didn't say it right off the bat instead of the excuse about his ribs.
Corley believes Judah will beat Garcia if he boxes him. Corley saw enough of Garcia to know that the quicker Judah would beat him if he boxed him. However, Corley says Garcia would knock Judah out if Judah just stands in one place the entire fight.