In the last few years the rise of prospect turned legit contender Joe Joyce has been an interesting one for a variety of reasons. Well in to his 30's it was difficult to judge Joyce as a developing prospect even though he won the Silver medal at the 2016 Olympics. Joyce is fairly slow in general whether were talking his feet or hand speed. With no defense really to speak of it appeared he was a sitting duck at times just waiting to be taken out once he fought someone competent.
In his 11th fight in the paid ranks Joyce went the full 12-round distance against the experienced Bryant Jennings. Jennings had been previously stopped in the 12th round via TKO by Oscar Rivas. Luis Ortiz also scored a stoppage victory over Jennings and that was coming off taking Wladimir Klitschko to the scorecards. To close out 2020 Joyce used his jab effectively throughout his fight with Daniel Dubious which ended in submission in the 10th round. Joyce also attacked Dubious's body out-landing 51-29 in that department.
Unfortunately Saturday's bout is just the 4th fight Joyce will have fought since late 2020. That said Joe did earn a quality win over Joseph Parker in a competitive first half. Only to see Joyce really turn up his punch rate landing an average of 40 punches on 94 thrown from rounds 6 to 10. This week for Joe, it's all about the continuation of his dream to becoming heavyweight world champion.
Joyce is in a prime spot in the WBO being in the interim position waiting for his shot at unified champ Oleksandr Usyk. Zhilei Zhang is a tough customer with a style that should matchup perfectly giving us fans some entertainment in the main event on ESPN+ stateside. Zhang has a draw in which he knocked down Jerry Forrest three times and a close decision loss to Filip Hrgovic. Zhang hurt Hrgovic more than once as both men ran out of gas down the stretch of a fun back and forth scrap.
The jab was a key for Hrgovic so it should come as no surprise that Joyce will lead with it and likely jab Zhang ad nauseam. Is this a great matchup per say no but it's a good opponent considering the circumstance. Joyce has to continue this momentum he's built while the undisputed politics get solved. Still on the fence with the over/under set at mybookie.com for 8.5 but something tells me it will go over. Joyce has a good set of whiskers able to withstand punishment and his jab is his defense. At some point Joe's recklessness-stalker style taking too many punches will catch up just like it did to Sebastian Fundora last week. However it won't be on Saturday and the freight train won't stop as Joe Joyce wins the fight even if he loses a few rounds on the way to a stoppage.
My Official Prediction is Joe Joyce by 10th round stoppage.
Side Note: The co-feature matches Mikaela Mayer vs. Christina Linardatou. Mikaela's coming off her first loss as a professional to Alycia Baumgardner. Christina is the only woman to beat Alycia at the pro ranks and she also had a tight fight in a loss to Katie Taylor. There's real value in Linardatou as anywhere from a +500 to +600 underdog. In the end Mikaela's jab, footwork, and being the busier boxer will be the keys to victory for Mayer.
My Official Prediction is Mikaela Mayer by MD.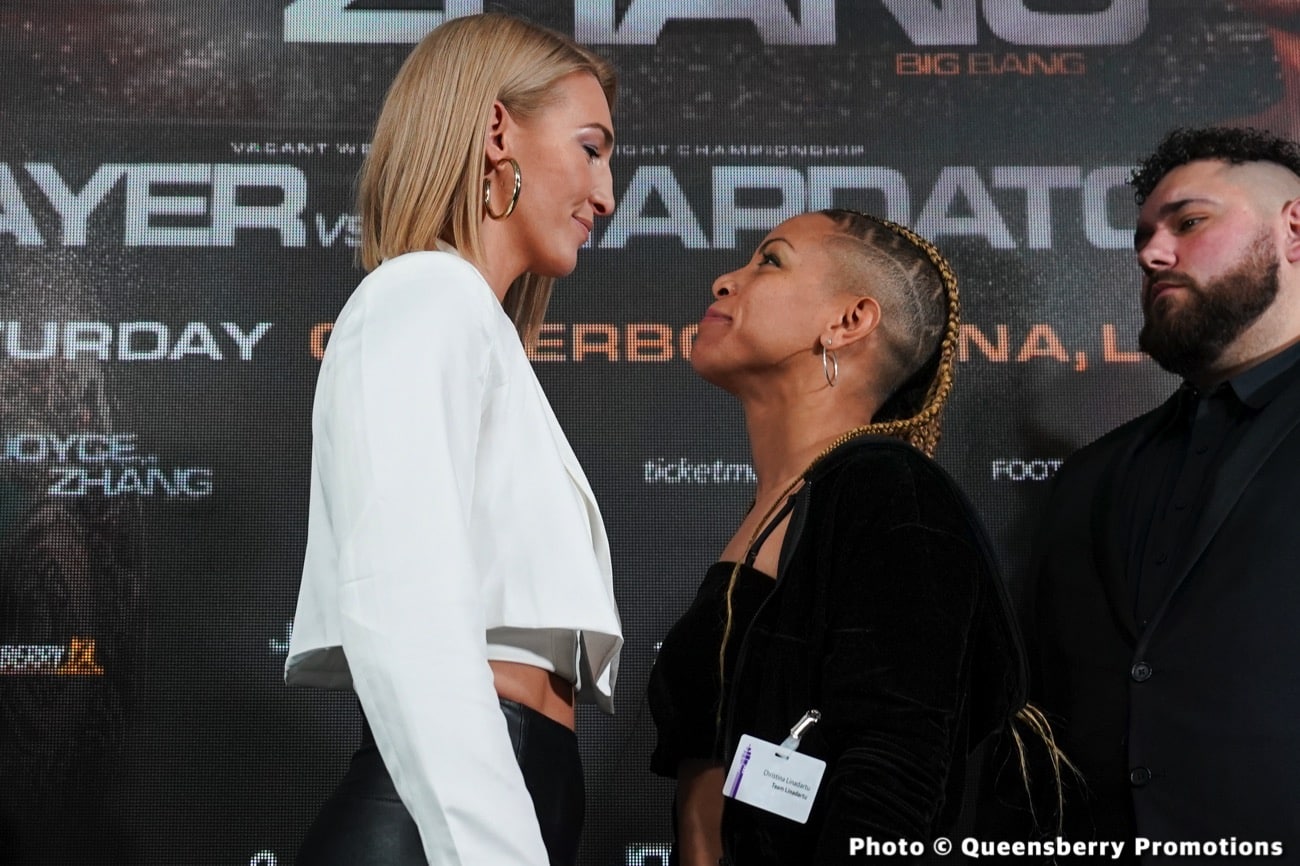 Written by Chris Carlson Host/Producer of The Rope A Dope Radio Podcast Available at www.blogtalkradio.com/ropeadoperadio Follow on Twitter @RopeADopeRadio