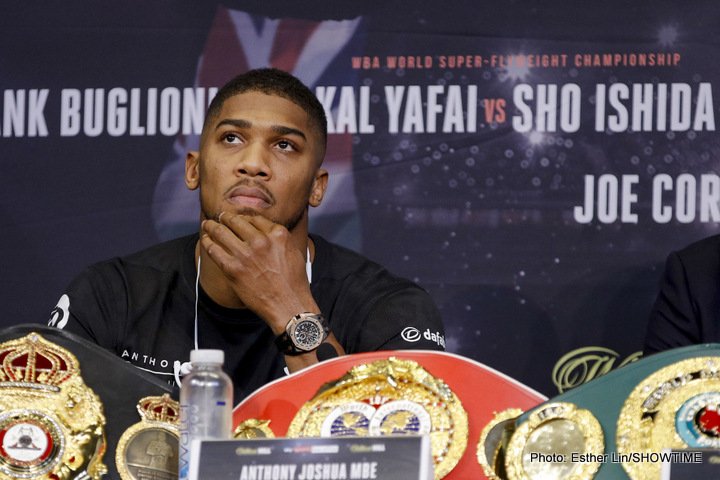 Might we see an Anthony Joshua-Alexander Povetkin fight next year some time? This particular match-up, one that seemed to have virtually no chance of happening a while back, in light of the Russian star's failed drugs test, could be closer than you may think.
As Joshua's promoter Eddie Hearn explained to Sky Sports, he will be having a meeting with WBA president Gilberto Mendoza soon, and one of the topics for conversation will be AJ's new WBA mandatory challenger. Luis Ortiz may be back in business with the WBC, but he is still no longer the WBA mandatory. Hearn is waiting to see who will take "King Kong's" place:
"I'm due to speak with Gilberto Mendoza, who may come to the UK in December," Hearn said. "Luis Ortiz was the mandatory but has been banned so there will be a new one. Manuel Charr has won the "regular" title but they are not looking at him as a mandatory challenger. Alexander Povetkin is fighting Christian Hammer (on Dec. 15) which could be the final eliminator to be Joshua's mandatory. We have spoken about Joshua Vs. Povetkin, and the likelihood of that. We have a really good relationship with World of Boxing, who are his promoters. They have a situation where they can fight a final eliminator to be the mandatory for Joshua, or for the WBO, so they are making that decision now."
So in a nutshell, if Povetkin beats Hammer (who is dangerous and can never be written off) he could be fighting for either the WBO belt or the WBA belt shortly afterwards. Povetkin, like Ortiz, is right back in business; despite his failed test or tests. Joshua-Povetkin in the UK, next summer? How big would this fight be and would YOU pay for it?
Can Povetkin beat either Joseph Parker, the WBO champ, or current WBA/IBF boss Joshua? We might find out. Hearn did add, though, how if a unification fight is arranged it would take precedent over a Joshua WBA mandatory. So we could still see either Joshua-Parker or, hopefully, Joshua-Deontay Wilder next year.
And these two fights are the ones fight fans really want to see.