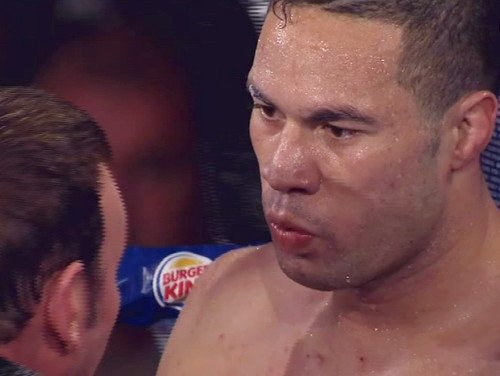 British fight fans may not like it, and it's likely British heavyweight stars Anthony Joshua, Tyson Fury and David Haye will not find it amusing either, but Joseph Parker's manager Dean Lonergan has gone on record as saying his fighter will knock out any and every British heavyweight Parker may face after winning the IBF belt from Anthony Joshua. Parker earned a shot at Joshua's IBF belt with a hard-fought 12-round points win over Carlos Takam last week, and he is eyeing a shot at A.J this year or early next.
And, if Parker is successful in his challenge, as Lonergan is certain he will be, the unbeaten New Zealander could set up base in the UK as he sets about taking out all the British heavyweights that matter. Lonergan, in speaking with City A.M, said his fighter will then move on to the US and clean up there.
"England is the hottest place in the world for heavyweight boxing right now," Lonergan stated. "It's the place we want to be. I see Joseph Parker coming to England and first and foremost fighting Anthony Joshua and winning to become the heavyweight champion of the world. Then we'll knock out Dillian Whyte, then we'll knock out David Haye, then we'll knock out anyone else; Dereck Chisora, Hughie Fury, Tyson Fury if he's still champion and still boxing, and anyone else who wants to stand up and fight. If we could beat all those guys in one year we'd turn around and beat them all again the next year and move onto America."
These are big words indeed from the promoter of a fighter who has had just 19 pro fights (all wins, 16 by KO). As good a prospect/contender as 24-year-old Parker is, he has not yet done anything that suggests he would beat all the names Lonergan spoke of, much less by KO. The win over Takam deserves respect, yes, but let's not get too carried away just yet. Joshua-Parker has the look of a good fight, maybe even a great one, but Fury, the real heavyweight king, would have too much of just about everything for Parker in the opinion of many judges. Parker might blossom into a great heavyweight, but it is way too early to tell at this stage.
Longergan, though, insists his fighter has had tougher tests than Joshua has had, and that if he hurt A.J the way Dillian Whyte did, there would be a new IBF heavyweight ruler.
"Anthony Joshua has not had to fight a fighter of that ilk," Lonergan said of the man Parker beat in Takam. "Joshua has never had to go 12 rounds. The only time he looked troubled was against Dillian Whyte and he was wobbled in round two. And here's what I can promise you, if Parker wobbles Joshua at any stage, he will knock him out. I've got no doubt Takam's got a way better chin than Joshua and a way better defence. But there's no doubt Joshua hits harder."
Parker will face 40-year-old Solomon Haumono on July 21st in New Zealand and then, unless Joshua engages in a unification super-fight with Fury (as is a real possibility according to Eddie Hearn) we will get to see if Parker can back up his big words. Or rather we will see if Parker can back up his promoter's big words.
The current heavyweight division is certainly buzzing right now, with plenty of excellent-looking match-ups that can and hopefully will be made.