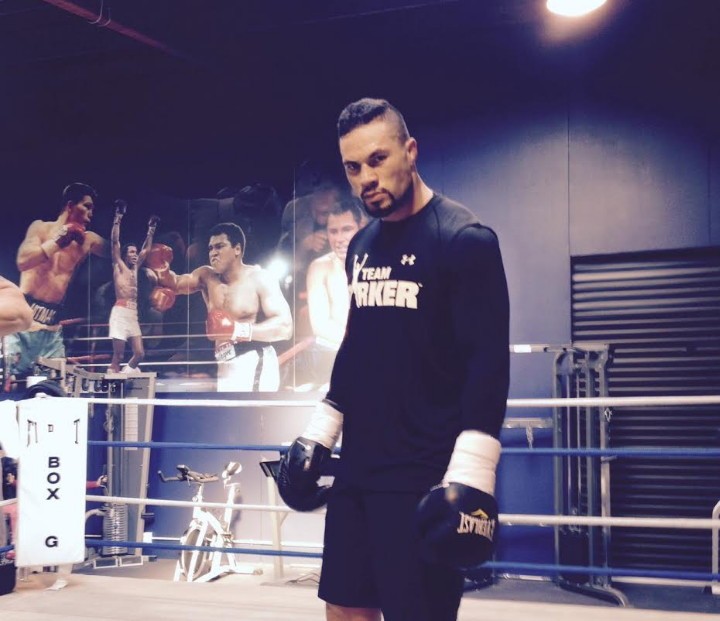 Unbeaten New Zealand heavyweight Joseph Parker has his biggest career test on May 21st, when he will, in an IBF elimination bout, face experienced French-based Cameroon heavyweight Carlos Takam. The fight will go ahead in New Zealand, much to the delight of Parker and his team, but Takam is unlikely to be overly fazed, having boxed in both Russia and Canada during his pro career.
Takam, 33-2-1(25) is 35-years-old and he was knocked out by Alexander Povetkin four fights ago, but he has good results on his record, including a win over Tony Thompson (when Thompson still had way more to offer than he did in his recent loss to Luis Ortiz) and a draw with a then unbeaten Mike Perez. Takam has won three in a row against so-so opposition since the loss to Povetkin (his other defeat coming on points to Gregory Tony of France way bay back in 2009).
With his youth, power and aggression and the fact that he will be fighting at home, Parker, 18-0(14) will probably enter the fight as a narrow favourite, with the long-term goal being a shot at whoever it is that holds the IBF heavyweight belt by January of next year (so not really that long-term). It's no secret Parker, just 24, wants a huge fight with fellow unbeaten, Anthony Joshua, with Parker saying he would come to the UK to get it on with the 2012 Olympic gold medal winner. "A.J" has to defeat reigning and defending IBF ruler Charles Martin on April 9th before a Parker fight can even become close to a possibility, but, the potential match-up would definitely prove interesting, as it would pit two of the youngest top-rated heavyweights against each other.
And today, in speaking with the New Zealand Herald, Parker's promoter Dean Lonergan of Duco Events spoke about how enormous a Joshua-Parker fight could be:
"Potentially, if Joseph Parker fights in England for a world title it will be in front of 100,000 people," Lonergan said. "I don't know that any Kiwi has ever experienced that. It would be one of the biggest fights in boxing history."
That might be an exaggeration – Joshua against Tyson Fury or David Haye would be far bigger, to name just two possible British foes for Joshua – but any fight involving Joshua is a big deal, and this will be even more the case if the Londoner is carrying a world title. But Parker, a level-headed fighter, knows he has to deal with Takam before he can look any further.
"It's a very big occasion for me and the team," Parker said of the Takam fight that will, interestingly, take place the same date as David Haye's next fight, Haye of course being very much in the mix as far as who Joshua's first, voluntary defence might be against. "I've been working very hard for the past three years on my craft and on my career. This is the time for me to show what I can do in the ring against a top opponent. Fighting Takam is going to bring out the best in me. I'm going to turn on beast mode and go hard."
The heavyweight division really is buzzing again right now- with this fight, the Haye comeback, the Tyson Fury-Wladimir Klitschko rematch, the Deontay Wilder-Alexander Povetkin title fight and the intriguing Joshua-Martin bout all to look forward to in the coming weeks. Whoever said the division was dead!