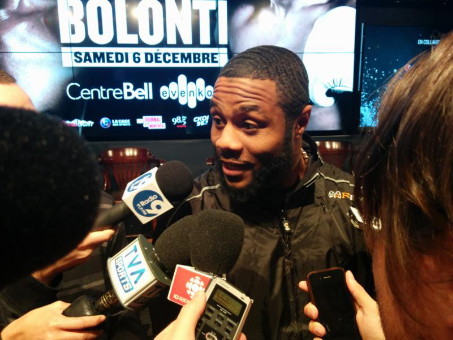 Former WBC light-heavyweight champ Jean Pascal will return to action in Canada on December 16, against a TBA. Last seen losing by corner retirement to Sergey Kovalev in a return meeting, Pascal was pulled out after seven rounds by his trainer Freddie Roach. Now, some 11 months on from what was just his fourth career loss, Pascal will return to action with a new trainer. Or rather an old trainer who is reuniting with him.
The Montreal Gazette reports how Pascal, 30-4-1(17) and aged 34, will now be trained by his former amateur coach, Stephan Larouche. Pascal says he wants to become a champion again and that boxing is his passion. Larouche acknowledges how it could be a tough road back for Pascal, as the current 175-pound weight division is "pretty high calibre."
Pascal, who says he would like to fight two or three times in 2017, insists he is not coming back for the money.
"It's not for my ego. It's not for the money. I love boxing and I love my fans," Pascal said. "When I went for groceries people were asking me, 'when are you coming back?' Boxing's a passion for me. Honestly, I'm still aiming for the peak of the mountain. My goal is to rebuild myself, try to become world champion."
Pascal has thrilled fans over the years, his battles with the likes of Carl Froch, Bernard Hopkins and Lucian Bute being as entertaining as they were tough. Can he come again at age 34? It could indeed be a hard road; something Larouche is aware of.
"He has experience and has to use it to his advantage," Larouche said of Pascal. "He has to fight with his experience, with his strength. Jean's very emotional in the ring. He wants to dominate all the time. One step at a time. He hasn't fought for 11 months. We're going back to the fundamentals. Get some wins and then we'll make some plans. I think he has the potential but, you've seen over the weekend how strong it is. The calibre's pretty high in the light-heavyweight division."
Pascal has plenty of heart and courage, but it's unclear how much he has left in the tank after an 11-year pro career. Beaten only by Froch (down at 168), Hopkins and Kovalev (twice) it's not surprising Pascal wants to continue. If he can get that far, a world title shot against an Andre Ward or an Adonis Stevenson would possibly prove very interesting. Pascal, win or lose, is never in a dull fight. He seems to be in good hands with Larouche, too.