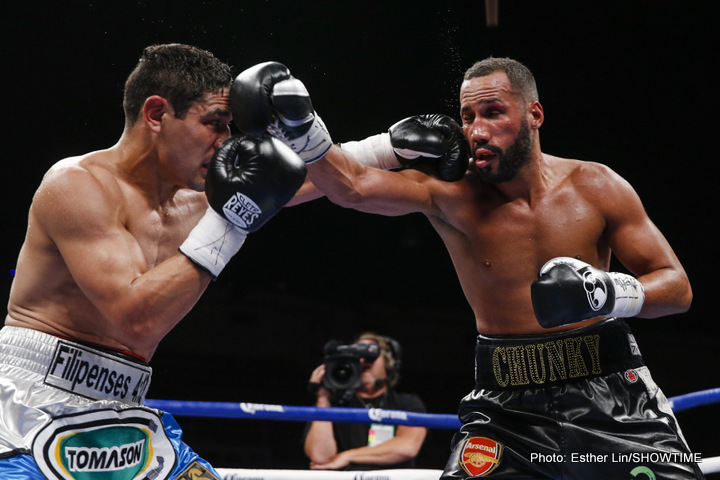 James DeGale defended his IBF Super Middleweight World Championship with a close, hard-fought unanimous decision against Rogelio Medina in the opening bout of the SHOWTIME CHAMPIONSHIP BOXING telecast.
DeGale was supremely accurate, landing 51 percent of his power punches compared to just 23 for Medina, including a staggering 66 percent of his power punches. The switch-hitting southpaw attacked from unorthodox angles, and was most effective when he snuck in a right uppercut to back up Medina. But the British titlist – a record 12th from Great Britain – failed to utilize his jab and was not able to deliver on his prediction of a knockout inside of six rounds.
"The boxing skills are too good," DeGale said. "If I'm being honest, he's a very strong fighter, but skills pay the bills. I watched this guy years ago and he didn't have the engine like that. He's gotten better and stronger in the last year and a half.
"I'm a bit disappointed – I should be taking out people like Porky Medina, no disrespect to him.
"I'm always learning in the gym. My inside work, my defense, my concentration. I'm going to go back to the gym, I'm going to work and I'll be ready in September.
"I want Badou Jack. I want a fresh name on my record."
Medina, on the other hand, nearly doubled DeGale, throwing 1,140 total punches, compared to 612 in the best performance of his career, but not enough to dethrone the champion. The Mexican challenger pounded the body and was at his best with DeGale against the ropes, striking the British champion with a killer left hook to the body.
"He said he was going to stop me. He was running all around and he didn't stop me like he said he would," said Medina, who's seven losses have come against fighters with a combined record of 131-2-2. "He's the only one who thinks he won. The fans think I won. I definitely want the rematch."