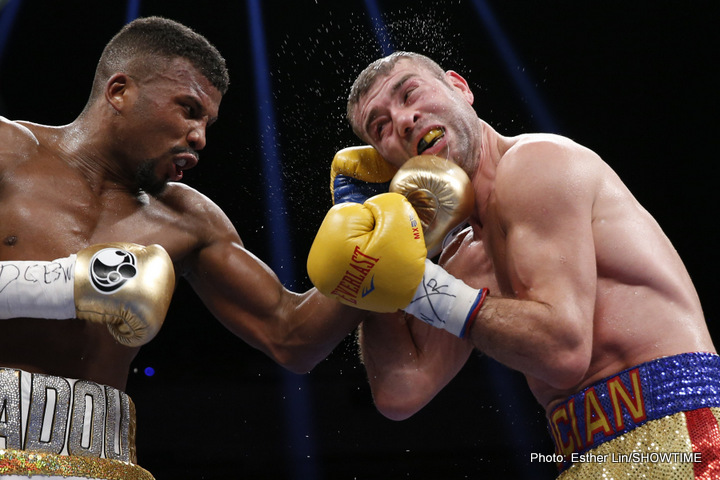 Badou Jack retained his WBC Super Middleweight title in a controversial draw against Lucian Bute Saturday on SHOWTIME, setting up a fall unification with IBF champion James DeGale, who defended his IBF crown against Rogelio Medina in the opening bout of the SHOWTIME CHAMPIONSHIP BOXING telecast from the DC Armory.
"Let's unify the decision and see who the best is," DeGale said to Jack in a post-fight interview moderated by SHOWTIME Sports reporter Jim Gray.
"I'm ready in September, ready in August," responded Jack." "I'm ready whenever. Let's do it where it makes the most sense financially."
Jack was the sharper fighter from the opening bell, committing to pounding the body of the former long-time titlist. Facing his second southpaw, Jack prevented Bute from fighting his game, smothering the Romania-born Canadian whenever he attempted to fight on the inside.
While Jack varied his punches with a diverse attack to the body and head, he slowed in the latter rounds and allowed Bute to climb his way back into the fight. Bute had perhaps his best round in the 10th and closed the show well, in the 11th and 12th. But it was too little too late for Bute, who escaped D.C. with what most felt was an undeserved draw.
"Bullshit, but is what it is. Ask Bute as well, he knows what time it is," said Jack, who landed nearly 100 more punches than Bute, including 61 percent of his power punches, and 40 percent total of his total shots. "His punches weren't hurting me. I feel I won the fight. Maybe I lost the last round. He's a great guy and a great champion, but I know I won the fight.
"It's not Bute's fault, it's the judges. People saw I won the fight."
The 36-year-old Bute certainly looked like a fighter with plenty left in the tank, rejuvenated under trainer Howard Grant with his sights set on the new crop of stars in the super middleweight division.
"It was a close fight," said Bute, who connected at just a 21 percent rate with his total punches. "Believe me, it was very close fight. My last fight with DeGale was very close, tonight was a very close fight. I showed everyone I'm still at the top."
Saturday's event was promoted by Mayweather Promotions and Interbox in association with Matchroom Boxing.
Brian Custer hosted the SHOWTIME telecast, with Mauro Ranallo calling the action, Hall of Fame analyst Al Bernstein and former two-time world champion Paulie Malignaggi commentating and Jim Gray reporting. In the Spanish simulcast, Alejandro Luna called the blow-by-blow and former world champion Raul Marquez served as color commentator. The executive producer of SHOWTIME CHAMPIONSHIP BOXING was David Dinkins Jr. with Bob Dunphy directing.