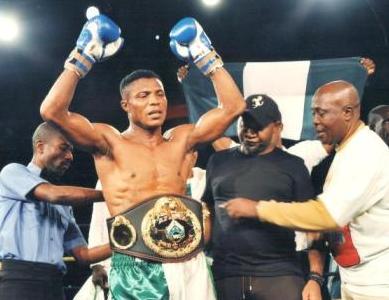 Former world title challenger, Isaac 'Grenade' Ekpo is confident he is ready to have another crack at a championship and is eyeing an immediate date against Romanian born, Lucian Bute.
The Nigerian fighter has racked up seven straight victories since his WBO Super Middleweight world title loss to Robert Stieglitz in Germany in October 2013, in the process winning the Commonwealth title as well as regaining the WBO Africa crown he previously vacated.
Now Ekpo believes he can challenge for the world title again. Ranked number 11 by the WBA and number 7 by the WBO, the Grenade was in negotiations with former WBA champion, Vincent Feingenbutz who just lost his strap to Giovanni De Carolis.
Nevertheless, Ekpo is calling out top ranked Super Middleweights, Callum Smith, George Groves, Mattew Murray, Lucian Bute of course as well as the new WBA champ, Giovanni De Carolis.
The former world title challenger feels he has not been given his due and is calling out for a challenge. He has recovered from the loss to Stieglitz, and knows he is a big threat to the big guns in the division.
"These big names should stand up and fight me. I am in my prime and winning fights so I know I will definitely land a big fight and I am ready for any of these guys," Ekpo told Boxing247.com in Accra, Ghana where he lives.
On WBC champion, Badou Jack, Ekpo says he wants to conquer the European fighters before taking on the likes of Badou Jack and Julio Cesar Chavez on the world stage.
"The fight if my interest now is to face Lucian Bute, he is my preferred choice for now but challenging for the world title again is my ultimate target," Ekpo said full of confidence.