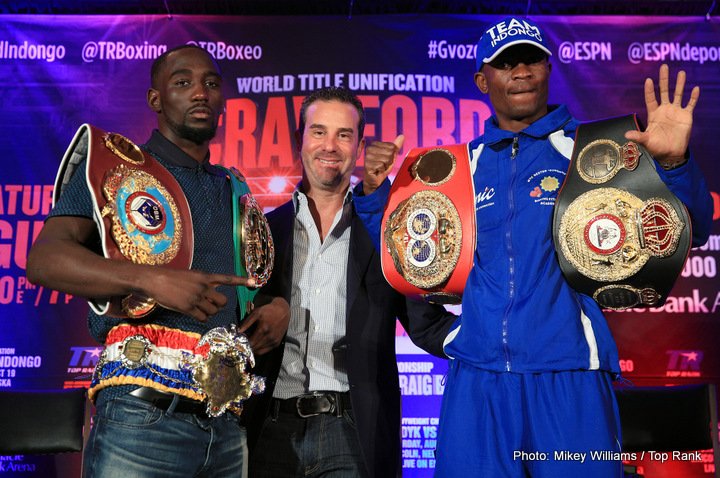 It's an interesting fight that has attracted far less attention than should almost certainly be the case (due in large part to the quite incredible amount of press a certain fight set for August 26 has generated) – and tomorrow night's 140 pound unification clash between Terence Crawford and Julius Indongo will see a new pound-for-pound ruler crowned.
This is the opion of Crawford anyway. Speaking with the media at yesterday's final press conference before the big fight, Crawford said he "must" be looked at as the best boxer in the world pound-for-pound after he beats Indongo and adds his two belts to the two he already has in his possession. Crawford said there will be "no discussion" on the subject of who the pound-for-pound best is after he has dealt with the tall and dangerous Indongo; and of course, "Bud" is ultra confident he will pick up the win tomorrow.
But if Crawford does as he expects to and defeats Indongo, will this really make him the number-one fighter in the mythical pound-for-pound stakes? Would a four-belt win over Indongo earn Crawford the spot ahead of Andre Ward? Vasyl Lomachenko? Guillermo Rigondeaux? Gennady Golovkin? Canelo Alvarez?
Winning an armful of belts and unifying a weight division is a great achievement of course, but is the man Crawford will defeat to achieve this, in Indongo, as special and as talented enough a fighter for Crawford to be able to vault over the fighters listed above?
It would (or will; Crawford is the favourite to win tomorrow ) be a good, solid win, but better than Ward's win over Sergey Kovalev? Better than Lomachenko's win over Nicholas Walters? Better than Rigondeaux's win over Nonito Donaire? Better than Golovkin's win over Danny Jacobs? Better than Canelo's win over Miguel Cotto?
Indongo is a good fighter but is he really in the same class as the above names; bigger names at that? Until he beats a marquee name, Crawford, though very close to being worthy of hitting the top spot pound-for-pound, doesn't quite make it.
For now, regardless of what happens in tomorrow's 140 pound big deal, Ward will remain where he is – atop the pound-for-pound charts. Can anyone knock him off? If September 16th's big fight is won in commanding fashion, then either GGG or Canelo could be seen as the very best, while imagine if Rigondeaux got the fight he wants with Lomachenko and beat him; surely many people would argue the Cuban's case in a major way. While if Lomachenko beat Rigondeaux, say by vicious KO or stoppage, his supporters would be entitled to shout louder than they already are when it comes to proclaiming "Hi Tech's" pound-for-pound greatness.
There could well be something of a reshuffle at the top of the pound-for-pound charts before the year is out, that's for sure.