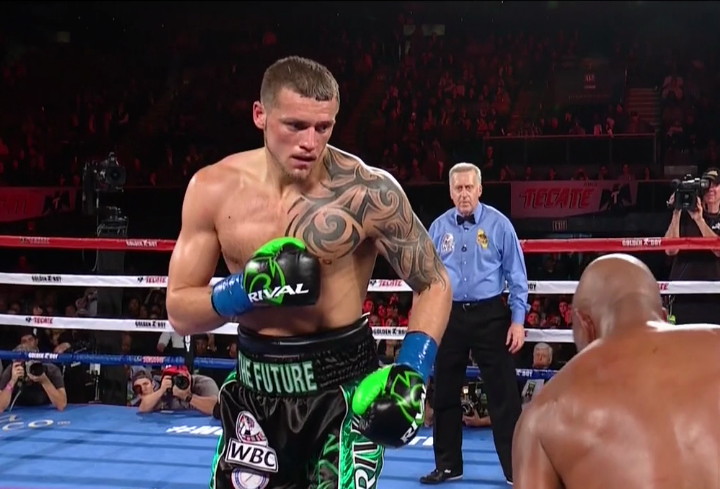 Go back to the start of this year and chances are you had never heard of Joe Smith Junior. But then, in June, "The Irish Bomber" scored a huge upset when he took out the tough and well known Andrzej Fonfara inside a round. This win certainly got the 27-year-old known, and the stoppage victory also earned Smith Jnr an even bigger fight – one with living legend Bernard Hopkins, and we all know what happened there this past Saturday night.
Now, with his fighter going 3-0(3) in 2016, Promoter Joe DeGuardia feels Smith is more than worthy of picking up The Fighter of The Year award. Speaking with Ringtv.com, DeGuardia explained why Smith, 23-1(19) is more worthy than Terence Crawford; Crawford being the front-runner for the distinction in the opinion of many people.
"I believe Joe should be Fighter of The Year," DeGuardia told the web site of The Bible of Boxing. "He fought three times this year and scored knockouts. The first one (over a fighter named Fabiano Pena, who Smith stopped in the second round in April) okay, no big deal, he beat a guy he was supposed to beat, the same way that Crawford beats guys he was supposed to beat. But in Joe's second knockout in June, he went on national television on NBC, went into the other guy's hometown and knocked the number-two rated contender in Fonfara when he was a big underdog. Then he goes and fights the final one against Bernard. He went out to a place where he was supposed to be the foil. Instead he knocks him through the ropes."
DeGuardia makes a good enough case for his fighter and his credentials, and it's true that Crawford beat two guys he was "supposed to beat," in Hank Lundy and John Molina Jnr. Crawford's dominant win over Viktor Postol was very impressive however. Still, DeGuardia is right when he says Smith literally burst onto the scene from nowhere.
"You're looking at a guy who burst upon the scene from no place," DeGuardia continued. "In the same year he knocks out Fonfara – he was considered a top dog – he knocks out Bernard the way he did. To me, those are Fighter of The Year [achievements]. It's what you did in a year – not what type of fighter you are."
What Smith did this year was make a name for himself in great style, and also surely earn himself a world title shot in 2017. Smith may not win the FOTY award, but he's had a great year all the same. And who knows, maybe next year could be even bigger for the puncher from New York.
So who is your pick for FOTY? Crawford? Smith? Carl Frampton? Andre Ward? Someone else? It's going to interesting seeing who gets the most votes this year.