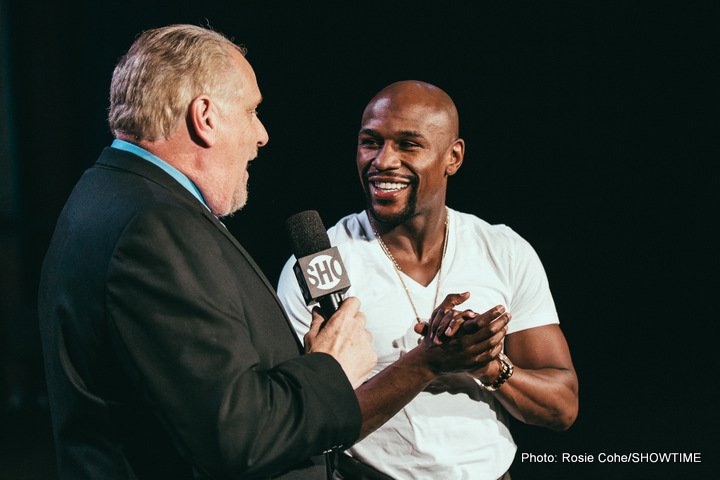 Though he insisted the mega-money fight he engaged in and of course won in August, against MMA star Conor McGregor, was his final fight, Floyd Mayweather has again caused a stir via a couple of pictures he placed on social media yesterday.
Mayweather is seen training in his gym in the uploads, and of course already speculation is rife – is the 50-0 megastar planning to fight again, in what would be his 51st bout? In light of how financially successful the McGregor fight was, there has been talk of the two doing it again; McGregor recently telling his fans he is "sure" he can beat Mayweather and that "with a a few adjustments" he will do so if he gets the chance. Will Floyd give him this second chance?
We all know how much Mayweather loves money and maybe he has ideas of collecting another hugely satisfying payday courtesy of a second win over McGregor. It is surely too much to hope for a Mayweather return in which he takes a genuine risk – by way of a fight with Gennady Golovkin (who, Floyd stated recently as filmed by TMZ Sports, he is not afraid of) for example.
But would you really be shocked or even surprised if Mayweather did come back for a McGregor rematch? Is Floyd bored already, is this why he is back in his second home, his gym? "They all come back," screams the old boxing adage, and maybe Mayweather is ready to do so – again.
Then again, maybe Mayweather is just teasing us, messing with us. Or maybe he was simply enjoying a workout whilst donned in full boxing garb and there is nothing else to his recently uploaded pictures.
But many fans are convinced Mayweather will fight again. Maybe he will, whether we really want him to or not. There were definitely signs of slippage on the part of Mayweather in the McGregor fight, but whether this was down to age (and we must not forget that Floyd is nearly 41) or the fact that he trained around three weeks for the crossover fight is something that will only be found out – maybe – if the most financially successful boxer in history decides to roll the dice once more.