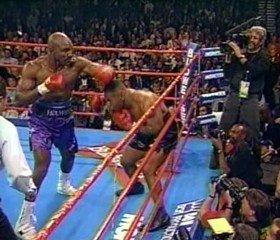 Today a successful, if still young promoter, all time cruiserweight and heavyweight great Evander Holyfield celebrates his 55th birthday today. Now long retired, the only four-time heavyweight ruler is busy with his new venture, even though, as good a shape as he has kept himself since retiring, Evander still looks like he could fight.
But what on earth would there be left for this living legend to achieve!
What Holyfield accomplished throughout his near-30 year pro career is simply breathtaking. And "The Real Deal" was no slouch as an amateur, either. Winning, controversially, a bronze medal only at the 1984 Olympics, Holyfield was not expected to achieve as much at pro level as some of his teammates; Meldrick Taylor (who also celebrates his birthday today, turning 51), Pernell Whitaker and Mark Breland amongst them. But Evander, with his sheer determination and mental strength (arguably his two greatest assets) was able to surpass each and every one of his '84 mates.
Winning the WBA cruiserweight title in just his 12th pro fight, by beating the tough and seasoned Dwight Muhammad Qawi, in what is regarded as THE greatest cruiserweight fight in the division's history, Holyfield soon became undisputed champ. But his real goal was to become a great world heavyweight champion. He achieved this dream and then some.
Holyfield first became heavyweight champion in 1990, by knocking out an out of shape Buster Douglas in one of Evander's rare easy fights, and he would be crowned four times in all; Holyfield being the only four-time heavyweight champion in boxing history. Who can forget Holyfield's epic heavyweight rumbles? "Too small" to make it as a heavyweight, Holyfield made mincemeat of such talk, as he met and defeated the following big men of the sport: Douglas, George Foreman, Riddick Bowe, Ray Mercer and Mike Tyson.
The trilogy with Bowe is up there with Ali-Frazier, it was so bitterly contested, the action in each fight was so special. Holyfield, upon challenging Tyson, in an attempt at becoming a three-time ruler, was not only a huge underdog, many people feared for his health, his life even. It was perhaps the November 1996 TKO win that best proved Holyfield's ability at crushing both his opponent and the odds.
A win over John Ruiz saw Holyfield become a four-time king (the 2000 win also earning Evander the distinction of being the only boxer to have ruled as a world champion in three consecutive decades) while only a close, debatable points loss to the colossal Nikolay Valuev in 2008 prevented Holyfield from becoming a five-time heavyweight champion!
Evander was past his best by the time he held Lennox Lewis to a hugely controversial draw and was then closely out-pointed in the return, but by the time of these fights, he had achieved more than enough to go down as a great – and, as the Ruiz and Valuev bouts showed, Holyfield wasn't quite done yet by 1999/2000.
Retiring, in 2011, with a less than extraordinary-looking 44-10-2(29) record, Holyfield's place in boxing history is very special indeed.
Happy birthday, champ.