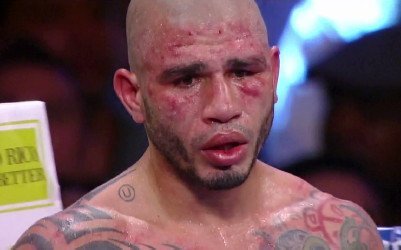 By Eric Roman Sr. – A lot of talk has been made about the possible showdown between Canelo Alvarez and Miguel Cotto, even though the wily veteran lost a unanimous decision to Austin Trout this past weekend. As we all know, Cotto has had an incredible career, a sure fire Hall of Famer, and one of the greatest Puerto Rican fighters of all time, but at this point, much like "Sugar" Shane Mosely back in May, do we really need to see an all time great get battered by this young ferocious lion? Before the Trout fight, I was all for it, I thought it was a no-brainer. Two similar styles, both being boxer-punchers, the "old" versus the "new", Puerto Rico vs. Mexico, can it get any better? Well, the problem with all that is the fact that Austin Trout made it all go away. He showed us that Miguel Cotto may be a little more past his prime then we thought, let's face it, he left it all in the ring against Floyd Mayweather back in May, and those type of fights, along with both Margarito brawls, the Pacquiao bout, and a number of others when he was at 140lbs. have taken a lot out of him.
Enter Austin "No Doubt" Trout, a young, undefeated title holder, who has an excellent amateur pedigree, who just beat the aforementioned Puerto Rican Star, has been calling out Saul Alvarez since "The Classy" Jimmy Lennon Jr. spoke the following words into the microphone on Saturday night; And Still! Why wouldn't this fight be made? I mean, who's in charge here? This is where boxing never makes logical sense, we have two undefeated fighter's, both young and in their respected primes, both title holder's and we have Richard Schaefer of Golden Boy promotion's saying the Cotto fight still make's sense. Sure it does, because it's easy to exploit the latin community into thinking that the legendary Miguel Cotto is back!!
Now Canelo has to stop the new and improved battle-scarred ex-champion as he makes his prominent return to the squared circle… Stop right there! We're not stupid, stop protecting your fighter from a hungry kid who's earned the right to get to this position in life. Austin Trout is a proven winner, whether you like his style or not, so aren't we supposed to reward him? The sport of Boxing has never been one to show us a great set of Morals, but here's a chance to do whats right. Give the fans a night they desire. Two unbeaten guys with everything on the line, it's a win/win!
In my opinion, it won't happen. Canelo is being protected by one too many Golden Boy cronies. I'm sure he'd take the fight if it was presented to him, the kid is great, but signs point to no. So let's say, they look elsewhere, let's say the great Cotto retires. Who's next? For both men. Could it be another 140 pounder moving up for Alvarez? What about Trout? The 154lb division is filled with young talent for him to showcase his ability. A title unification bout against Cornelius K9 Bundrage would make sense, Vanes Martirosyan will be sidelined with an injury for a bit so maybe the names Carlos Molina or James Kirkland make a good fit. If he really wants to show us what he can do, he'll get in there with a Cuban lefty named Erislandy Lara, can he compete against another left-handed world class opponent. Who knows, maybe he could give a young prospect on the come up a shot, like Cuban-American lefty Joey "Twinkle Fingers" Hernandez, a fight like this, if he can manage to win, would be a great way to display his style against a fighter like Lara. Either way, it's Alvarez decision to make, he can also face any of the opposition mentioned above, as they all would give Alvarez a run for his money, even Hernandez, who I got to see as an Amateur, and I know at top form can give anybody a problem. But that's not what we want, is it? At least not yet, so wake up Golden-Boy, we're not stupid. Make Alvarez-Trout happen.
Follow me on Twitter @ERomanSr