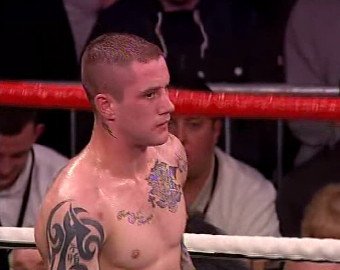 By Michael Collins: WBO lightweight champion Ricky Burns (35-2, 10 KO's) has had two opportunities to face unbeaten Adrien Broner (25-0, 21 KO's) and on both occasions he chose not to face him. The first time was last year when Burns held the WBO super featherweight title and Broner was in line to face him as his mandatory challenger.
Burns then complained about having difficulties making weight and then moved up to 140 and was given the WBO lightweight title. Next, Burns, after beating Kevin Mitchell and Paulus Moses, he was given another chance to fight Broner on February 16th. Burns instead decided not to take the fight and instead he'll likely be defending his WBO 135 lb strap in late January.
In the meantime, Broner will be facing British contender Gavin Rees on February 16th in what pretty much amounts to being a sick mismatch at the Boardwalk Hall, in Atlantic City, New Jersey, USA. If Broner comes through that fight without a scratch, he could be fighting on the Floyd Mayweather Jr. undercard on May 4th. Right now, he's still penciled in due to his February 16th fight being so close to that date. Unless he massacres Rees like many boxing fans think he will, it'll be kind of risky to have him fighting only three months later.
I think if Burns doesn't choose to fight Broner in 2013, Broner really needs to move on and look for much bigger fights than that. He can't tie himself down trying to get a fight with someone that won't face him. A win over Burns won't change anything in terms of winning over new fans in the United States, because Burns isn't well known over there.
Broner might as well be fighting Jason Litzau again, because I see a victory for him over Burns being pretty the same as Broner destroying Litzau for a second time. The casual fans will be like 'Oh, Broner is destroying some guy named Burns. Big deal. Gee, I sure wish Broner would finally fight someone good for a change.' There's no advantage that Broner will get by beating Burns other than taking his paper title, and what good is that if he's winning it off of a fighter without a big name.