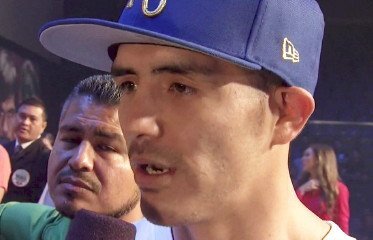 It seems that Brandon Rios hasn't quite got over his disappointment at the cancellation of his mooted fight with IBF welterweight champion Kell Brook earlier this year, insisting Brook was afraid to step in the ring with him and is simply calling out names he has no intention of fighting.
Rios' team were negotiating with Brook and his promoter Eddie Hearn for some time before the proposed clash fell apart due to contractual minutiae; most notably money and a rematch clause, leading 'Bam Bam' toward his alternative date next month with WBO boss, Tim Bradley.
Brook has just recently pulled out of his October 24th hometown date with Argentina's Diego Chaves, citing an unprovable rib injury, and the Oxnard based Rios claims he isn't surprised.
"Keith Thurman would knock that motherf***** out, Maidana would murder him…I'd kill this guy," Rios said to ESNews about Brook. "this motherf***** just saying names to get his name out there, but he ain't stepping up to the plate.
"He's fighting guys who can't hit, like Frankie Gavin and some other fu***** guy I never heard of him [Jo Jo Dan]. Those are guys nobody ever heard about."
"He's calling names out so they say 'oh Kell Brook's this, Kell Brook's that, they're dodging him, they're scared of him!," Rios continued. "Nobody's fu***** scared of that fuc**** guy!….I'd knock that motherfu**** out, take his belt and be happy about it!"
"He also won't fight Amir Khan," Rios added scathingly. "'Cause he knows he'd get his ass handed to him."
Brook – who has been chasing Khan for months – is now potentially set to fight Chaves in December, topping the Matchroom Sport 'Bad Intentions' bill from London- that while not confirmed – is looking increasingly likely to be a PPV event when it rolls around.
"Devastated i'm out of the fight next week," Brook said at news of his injury/Chaves postponement."Wanted to fight on but can't give up my belt after working so hard to get it. Rescheduled date soon."
Rios fights Bradley on November 7th, live on HBO (US) and Boxnation in the UK.
NB: In an interview uploaded by iFLtv this afternoon [Tues UK] Hearn claims Brook is now unlikely to box this year, before going on to concede he may still add him to the Dec 12 bill or put him out on a card that's not yet been announced on Dec 19!
Make of that what you will…
Twitter @Undilutedpoison