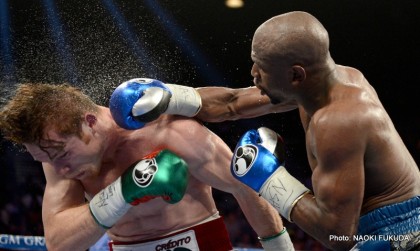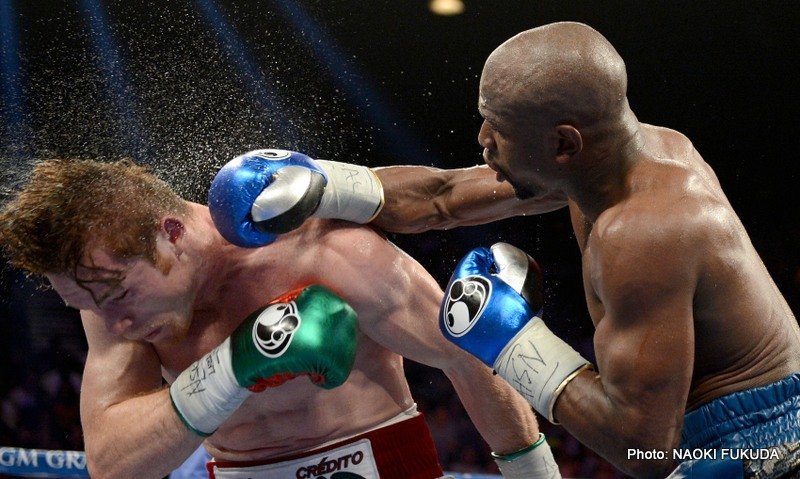 Last Saturday the world watched as Pound-for-Pound king, Floyd 'Money' Mayweather faced Mexican warrior, Saul 'Canelo' Alvarez. Fans, media, skeptics, and beyond viewed this as a classic grudge match pairing "old school" vs "new school". Narrow betting odds across the globe displayed what most viewed to be an inherent danger involved for the aging Mayweather. By the end of the night that same group of people would have paralleled thoughts yet again; only this time, of a vastly different variety.
When headlines around the world fell off the press, there was only one "shock" to be reported. That "shock" was the incredulous and utterly criminal scoring of female Nevada based judge, C.J. Ross. Many took it upon themselves to condemn her, but the greatest lesson to be taken from this spectacle was the fact that Ross wasn't alone in error. We all were. Our biggest error as fans coming into the fight was viewing Golden Boy Promotions' title theme, "THE ONE", as a question; as opposed to comprehending the fact that it technically served as the answer. What we witnessed for 12 full rounds was a level of mastery demonstrated with ease in a way that few in the history of the sport could display at any point in their respective careers; let alone at the ripe age of 36.
From the day the fight was signed I viewed it as a nail-biter fight for Mayweather. One in which he'd have to show us something we've never seen of him, to accomplish results we've seen far too often. Despite a strong affinity to Canelo's youth, power, speed, and durability, when it was time to pledge my personal prediction, one angle gave me clear ground for precise direction. That angle? All the "great ones" of the past used this very same type of stage to show us why they were who they were. If Mayweather holds that rare key to greatness as I believed he did, this moment could only cement a legacy that's long been etched in stone.
Here we stand in the aftermath, and all questions raised are now questions answered. Seems every countdown promoting a Mayweather fight consist of the same sequence. Great opposition, great danger, and great promotion. Adding to that pattern is typically the end result, as the only thing to change after a Mayweather fight are statistics and the name of the person in the "L" column. That consistency tells us better than any source around the sport ever could that Mayweather is in fact the best of his era. But how about others? Historians have offered the names of Sugar Ray Robinson, Ali, and host of others. Recent history begs to differ.
The most legendary name in today's market? Bernard Hopkins. His thoughts on Mayweather when asked where does he rank All-Time? "Top three. Right with….(not behind, but WITH)….Ray Robinson and Muhammad Ali". When asked to solidify his point, Hopkins would continue "Yes! He's better than Sugar Ray Leonard and my personal idol who I took things about discipline from….Marvin Hagler"! Hopkins would conclude in saying "He's beating young guys that can fight! They would beat anybody other than Floyd Mayweather. When Michael Jordan was around sweeping through the league for those years, there was great players around him. But he was able to elevate himself through that situation. Floyd is the Michael Jordan of this era".
What about legendary names of the recent past era? Lets try "Sugar" Ray Leonard. His thoughts on Mayweather: "one of the most gifted fighters of any era". There lies two endorsements from two of the sports most legendary figures representing two separate era's. Now, lets take a look at this current era, starting across the pond. The U.K.'s David Haye went on record stating "How do you defeat perfection? You'd have to stick guys like Pacquiao, [the heavy handed] Danny Garcia, and [the speedy] Amir Khan in a blender, mix together their best assets, and even then the finished article would still lose on points". Closer to home we heard from the rugged Brandon Rios who co-signed, chiming in "I don't think nobody can beat that guy! He's just too damn good. He was a born fighter".
It's important to note that these three statements represent three different era's. What's even more important to note is that at age 36, Mayweather has already defeated the best of his era, and now, arguably the best fighter 154lbs and below of the pending era. Critics will continue to doubt by yelling certain names. Antonio Margarito? Great work ethic. Tough. Now please add to those elements far too slow in hand and foot to accumulate enough points over 12rds. Miguel Cotto? Solid. But according to Uncle Evangelista, they "had an opportunity" when the fighters were at 140lbs. They declined on the grounds that they "weren't ready". Paul Williams? Great work rate, few fundamental skills to match. Interesting fight for all of 3 rounds. The landslide would soon commence from there.
No matter who you place on the ledger from any era, statistics prove that no fighter in the history of sport has had the complete arsenal – offensively and defensively – of Floyd 'Money' Mayweather. Toughness? Ask Shane Mosley what happens when you're lucky enough to land a flush shot. Ring intellect? Not only do you have to wonder which hand he may throw, but videographers have shown us multiple variations rendered using the same punch. What appears to start as a left-hook in the ring today could land as an uppercut tomorrow thrown from the identical spot next year in the MGM Grand on Cinco de Mayo.
Cut off the ring. Punch to the body. Use the uppercut when he dips in. Keep punching his arms. Give him an "accidental" headbutt to the mouth and frustrate him off his gameplan. If these angles were the "blueprint", Mayweather is the "whiteout", as positive results remain invisible. Was Leonard really that much faster than Judah? Was Duran really that much more dangerous than Cotto? Was Hagler that much stronger and smarter than Mosley? History may say they were. The "Win/Loss" ledger tells us they suffered defeat just like the others mentioned. At the end of the day, "hard to hit" is hard to hit in any era. And last I checked, statistical accuracy of the fist always meant a fighter rarely missed.
Ladies and gents, stop asking the question, who will be "THE ONE" (to defeat him)? Put aside disdain for his former cockiness and realize this man simply is "THE ONE". "TBE" is no longer a question "TBD". Critics will try to subtract from his legacy by multiplying drama and adding more division. Trouble is…..numbers don't lie….and career statistics have already answered that question. Don't get lost in "history". Be found by the truth contained in "his-story". It speaks volumes! And right now those staggering numbers tell their story loud and clear!
(Vivek "Vito" Wallace can be reached Tuesday nights at "Left-Hook Lounge Radio"! He can also be reached at 954.300.5692, Twitter (@vivekwallace747), Instagram ("ViveksView") and FaceBook).