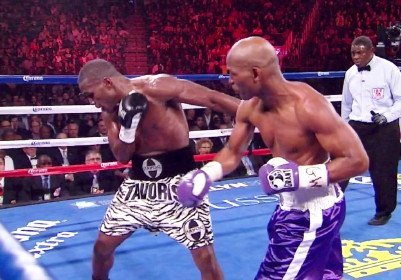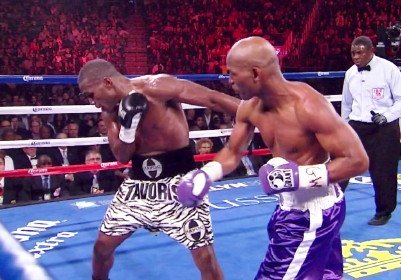 By James Slater – Living legend Bernard Hopkins did it again last night in New York: he took a good, strong unbeaten young fighter to school and relieved him of his world title. Arguably putting on his best show since taking away Kelly Pavlik's perfect record in 2008, the amazing 48-year-old totally confused the powerful and dangerous Tavoris Cloud over 12 enthralling rounds to take the IBF 175-pound belt.
Enthralling rounds? Well, it's certainly been said that Hopkins is a boring fighter, but if you do not enjoy ring mastery, ring brilliance and, yes, sheer genius unfolding before your eyes, then maybe the problem is more with you and less with 'Nard. And Hopkins, now 53-6-2(32) sure put all his ring craft, all his savvy and experience and all his boxing brains on display last night. Scoring more rounds for defence perhaps (B-Hop cares less about punch stats and more about history stats!), Hopkins bamboozled Cloud, he had him tied up in knots (as ring caller Dave Bontempo stated on air) and he had Cloud bleeding and well beaten.
Showing logic-defying reflexes for a man approaching his half century, "The Executioner" once again carried out a perfectly executed game plan. Cloud made the fight competitive in the first five rounds, but by the middle rounds it was basically all Hopkins. The question is, what now for the Philly king?
Post-fight, a typically defiant Hopkins (now firmly up there with "Ageless" Archie Moore when it comes to THE best old fighter in boxing history) spoke about fighting for another five years, and he also mentioned the possibility of facing P-4-P star Andre Ward ("I'll fight you," B-Hop said to Ward). In light of the manner in which he has continued to defy the odds (okay, Bernard fell short against the tricky Chad Dawson), who can rule out anything when it comes to this all-time great?
Styles make fights as we know, and as raw and at times crude as Cloud can be, Hopkins knew all along he'd be able to outbox him and defeat him. Ward is an altogether different boxer, but, as crazy as it may sound, Hopkins just might be able to give him a run for his money. Would you bet against it?
Hopkins has done more than enough to be deserving of walking away, his head held high – but there could be more to come yet from the man who must be ranked as the smartest fighter in all of boxing.