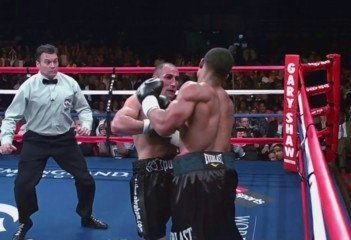 by Michael Collins: This Saturday night former IBF middleweight champion Arthur Abraham (34-3, 27 KO's) is in a must win situation against WBO super middleweight champion Robert Stieglitz (42-2, 23 KO's) in their fight at the O2 World Arena, Kreuzberg, in Berlin, Germany. Abraham, 32, has already been easily beaten the three times he stepped up a level and fought quality fighters in the super middleweight division, losing to Andre Dirrell, Andre Ward and Carl Froch. Abraham has since done well in his last two fights, albeit against mediocre fringe contenders and not truly the best in the division.
Stieglitz is a fighter that is clearly not among the top quality in the super middleweight division, but none the less he's good enough to hold down the WBO strap after picking it up off of Karoly Balzsay three years ago. The fact that an average fighter like Stieglitz has been able to hold down the World Boxing Organization 168 pound title for three years is a good sign of the kind of middle of the road opposition Stieglitz has dined during this time.
The following fighters – Robert Helenius and Marco Huck – all see Abraham taking this fight against Stieglitz on Saturday night.
Helenius told Boxen.com "Of course, Abraham wins. He's just stronger and has trained really well for this fight…I trust him to to win by knockout."
It would be interesting to know who Helenius picked in Abraham's losses to Dirrell, Ward and Froch.
Marco Huck said "Many forget that Arthur does not only hit hard, but can box also. In any case, Arthur will win before the interval."
Abraham has the power to score a knockout, but if Stieglitz can take his power shots, Abraham is going to be in for a long night. He's a pretty limited fighter and at 32, Abraham can no longer fight hard for more than 20 to 30 seconds of every round. He needs a lot of rest breaks.