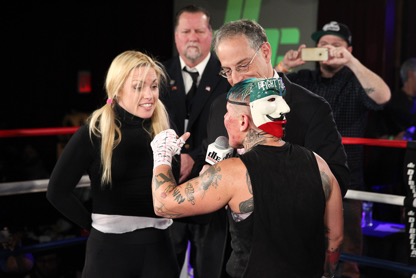 On Sunday, August 21, undefeated rising star Errol "The Truth" Spence Jr. (20-0, 17 KOs) is set to take on once-beaten contender Leonard "The Lion" Bundu (33-1-2, 12 KOs) in a 12-round welterweight world title eliminator that headlines Premier Boxing Champions (PBC) on NBC Sunday, August 21 from Ford Amphitheater at Coney Island Boardwalk in Brooklyn.
The action on NBC begins at 5 p.m. ET/2 p.m. PT following coverage of the Olympic Men's Basketball Gold Medal game. While much of the focus and buildup to the event has been on the 2012 US Olympian Spence Jr., there is another fight on the card that has the boxing world buzzing with anticipation and that is the WBC International Women's featherweight championship between Brooklyn's Heather "The Heat" Hardy and her longtime rival Shelly "Shelito's Way" Vincent, of Providence, RI.
If you are a fan of women's boxing, there is no bigger fight that can be made in the sport right now. Hardy (17-0) and Vincent (18-0), both world-rated and undefeated, have been baiting and verbally accosting each other for years. There is a legitimate hatred between the two that will surely not subside after they share the ring on August 21st.
Photo credit: DiBella Entertainment/Ed Diller
Vincent began appearing at Hardy's fights at Roseland Ballroom, which has since closed down, calling out the former amateur national and New York Golden Gloves champion, dating back to 2012, and the two have been combative ever since.
A longtime supporter of women's boxing, and promoter of Hardy since her pro debut, Lou DiBella knew how big this fight could be not just for women's boxing but for boxing in general. Hardy is one of the biggest draws in all of New York, while Vincent has an extensive fan base throughout the New England area. So when DiBella signed Vincent at the beginning of this year, potential for the bout to finally happen picked up major steam.
The two nearly came to blows at Vincent's DBE debut in January at BB King Blues Club and Grill in NYC, and would have agreed to fight anywhere, any time, if it were up to them. DiBella, though, knew they deserved more. Their fight deserved the proper platform, and the proper stage to showcase this long talked about, and eagerly anticipated fight.
"This fight needed to be on TV, given everything these girls have been through, for how hard they have worked to get to this point, and for how long the buildup to this fight has been. My job as their promoter was to make sure that the fight was televised," said DiBella.
Enter PBC and NBCSN. Since its inception in March of last year, Premier Boxing Champions has brought boxing back to the forefront, accessible to mainstream sports fans, providing coverage of some of boxing's biggest fights, televised live, for free and in primetime on major cable networks CBS, NBC, and FOX. Now, on August 21st, the ladies will finally have their shot. The Hardy-Vincent bout, which will serve as the co-main event on the NBCSN telecast, will air in primetime starting at 9 p.m. ET.
"I was given the opportunity by PBC to put this bout on NBCSN and I think that's a big thing for women's boxing to have a fight like this on television. Hopefully, this is going to open the door for more females to have these types of opportunities because they deserve it. They deserve to have the opportunity and the ability to continue to grow in a sport that, for centuries, has been dominated by males. This is a major step in that direction," continued DiBella.
DiBella held a media luncheon for Hardy and Vincent last week to officially announce the bout, and while the two women were respectful and civil for the most part, there was a definite tension in the air. Now, with just a little over a week to go until fight night, both Hardy and Vincent are more than ready to put on a show.
"This fight is a long time coming," said Hardy. "Shelly has been very vocal about how I'm not good enough, I'm not strong enough, and I'm not smart enough. I stayed quiet though, minding my own business and going about my career, because my mother taught me never to wrestle with a pig. She said that if you wrestle with a pig, you'll both get dirty and that's what the pig wants. Come fight night, she will be forced to eat every word she has ever said about me. It'll just be me and her alone in that ring, and she has nowhere to run, no mask to hide behind and nothing more to say. We will see who the real champion is on August 21."
Hardy continued, "I am very thankful to PBC and especially to Lou for everything that he's done to make this fight happen. I know it wasn't easy and he put up a hell of a fight to get this bout televised. In 2016, it's not acceptable for doors to still be closed to women. It's my responsibility, as the parent of a young girl, to fight for her and for every little girl banging away at a punching bag in the boxing gym with dreams of fighting on the biggest stages throughout the world. We deserve the chance to showcase ourselves, and on August 21, we finally have our moment."
"I have wanted this fight for so long, it's all I have thought about. I wanted this as bad as I have wanted to bring my mother back to life," said Vincent. "The hype, the attitude, all the talk is almost over. This is going to be a great fight. Everyone says Lou signed me to use me as an opponent for her, but I know that's not the case. She wants to be called 'The Heat', well I am telling you right now, she's about to walk through hell. I know how hard that is, because I have been there before in life. I have been fighting my entire life. When I get in the ring, that's fun for me. Heather has improved in the last couple of years because she has been training for me. She knows that she has to be her absolute best to beat me, and I know that she will be. Unfortunately for her, it still won't matter. I want to thank PBC and NBCSN and of course Lou for giving us a chance and an opportunity that we have been fighting to achieve for years. This fight is huge for women's boxing as a whole. This is an opportunity of hope. Hope for all those young girls out there in the world training day in and day out, dreaming of making it big. This fight is history, and I am happy to be a part of it."
Tickets for the live event, which is promoted by DiBella Entertainment and presented by BROOKLYN BOXING™, start at $35. Tickets can be purchased online by visiting www.ticketmaster.com and fordamphitheaterconeyisland.com.
Heather Hardy & Shelly Vincent Media Roundtable Quotes
Undefeated contenders Heather "The Heat" Hardy and Shelly "Shelito's Way" Vincent hosted a media roundtable in Manhattan Thursday to officially announce their long awaited showdown taking place Sunday, August 21 on Premier Boxing Champions on NBCSN from Ford Amphitheater at Coney Island Boardwalk in Brooklyn.
PBC on NBCSN coverage begins at 9 p.m. ET/6 p.m. PT and is headlined by exciting contender Claudio "The Matrix" Marrero taking on unbeaten Derrick Murray. PBC on NBC coverage begins at 5 p.m. ET/2 p.m. PT and features undefeated rising star and 2012 U.S. Olympian Errol "The Truth" Spence Jr. in a welterweight title eliminator against once-beaten contender Leonard "The Lion" Bundu.
Tickets for the live event, which is promoted by DiBella Entertainment and presented by BROOKLYN BOXING™, start at $35 and are on sale now. Tickets can be purchased online by visiting www.ticketmaster.com and fordamphitheaterconeyisland.com.
Hardy and Vincent will meet in a 10-round featherweight showdown years in the making. Vincent began calling Hardy out at her second professional fight, looking to get in the ring with the popular Brooklyn ticket seller. Despite the rival, both have campaigned for a women's match on this platform for years and will look to make their mark on August 21.
Here is what the fighters had to say Thursday:
HEATHER HARDY
"I wouldn't be here without all the help of my team and fans. I don't stand here alone. I stand here with all of the women who have fought before me that no one knows about.
"This is the kind of platform that this fight deserves. I've always imagined this fight being on television and I'm thankful that this fight has come together on NBCSN. It's important to have a stage like this and I hope it's the first of more fights like this on television.
"I really can't wait to punch Shelly right in the face. I like that everybody is sleeping on 'The Heat'. Don't sleep on me.
"Shelly started her career a little bit before me. She started showing up at my fights with all these antics from almost my pro debut and talking about wanting to fight me. It was inappropriate at the time, but then she signed with Lou and we've both developed in our careers. Hats off to her, it worked. I'm ready to brawl.
"I've seen her fight before. I went to one of her fights to talk to press and build up this matchup. I don't get too hung up on what I've seen. I go into the ring ready to make adjustments based off what I see. I'm not treating this fight any differently than other fights.
"Every fight I'm back in the gym working on getting better. I don't work hard, I don't work on getting in better shape, I work to improve at my craft. You're going to see a new and better Heather than ever before."
SHELLY VINCENT
"I'm thankful for this opportunity for women as a whole. This is a fight we've been waiting for, for a while. I can't wait to get in there and hit Heather. She thinks there's no pop in my punches but she'll be surprised on fight night.
"Heather and I really just don't like each other. I've tried to make this fight for years and she wouldn't take the fight. I've seen her lose some of these fights. I don't believe she's undefeated. I feel like she's avoiding me.
"I've been trying to make this fight happen but I'm glad it didn't happen back then; this is the perfect time for it. We both deserve this opportunity. Heather and I work hard, taking nothing from her, but I can't wait to get my hands on her.
"I know Heather is going to use her legs. She doesn't seem strong so I think she's going to try to get away from me. I just have to cut the ring off.
"I always knew I'd have to come to her home territory. I'm going to stick to what I have to do. I know she's not better than me. It's going to be me coming forward with constant pressure. I hope she comes at me because that would make it an even more exciting fight."
LOU DIBELLA, President of DiBella Entertainment
"We're making a lot of history on August 21. This will be the first women's bout broadcast from Coney Island. I want to thank PBC and NBC for giving these women this much deserved platform to showcase their talents.
"The co-featured bout on NBCSN will be this long awaited contest between these two women. It's been talked about for years. They've been talking to each other for years and it's finally happening.
"This is history and I think it's going ot be a good night for boxing, and especially for women's boxing. This is a great opportunity for these two contenders and two women who have earned the right to be on television. They both have crowd pleasing styles. This is going to be a Gatti-Ward fight. These two want to beat each other up.
"Heather and Shelly are two of the most popular female fighters in the country. They like to rumble. They make every fight a war. They're willing to be hit and that's what makes their fight so much fun."