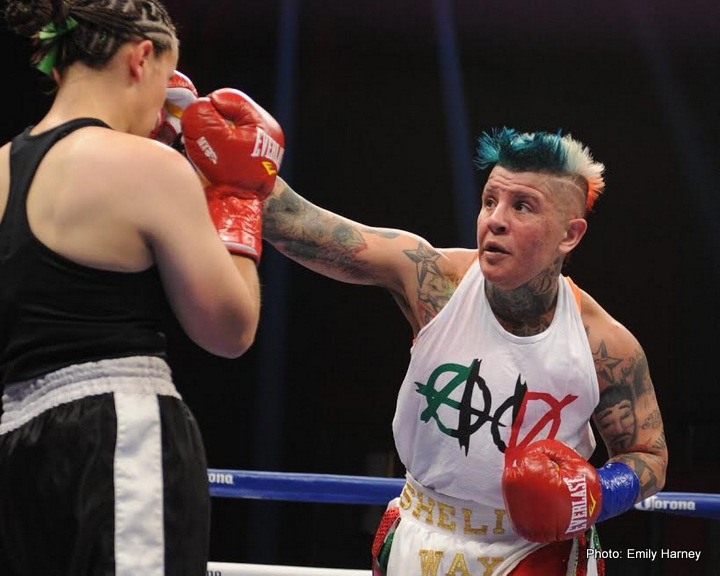 Super bantamweight boxer Shelly "Shelito's Way" Vincent (17-0, 1 KO ) looks to keep her undefeated record in tact as shefights for the third time this year on July 21st at the Foxwoods Resort Casino in Mashantucket, Connecticut, against an opponent to be named at a later date. The UBF and WIBA titleholder from Providence, Rhode Island is poised to make women's boxing more mainstream and take her career to the next level, starting with a potential bout against undefeated archrival, WBC super bantamweight, Heather "The Heat" Hardy (17-0, 4 KOs), hopefully at some point this year.
Her accomplishments in the ring are not to be outshined by her success outside of the sport where she has championed for women's rights, advocated for sexually abused victims, and assisted with cancer patients. Her very difficult childhood of losing her mother from leukemia and being sexually abused as a young child has made her a strong and extremely determined women and an unstoppable force in and out of the ring.
Vincent was gracious enough to take time out her busy training camp to discuss with me potentially fighting Hardy, why she signed with DiBella Entertainment, the state of women's boxing, and much more.
James Stillerman: Do you think a bout between you and Hardy can be made this year?
Shelly Vincent: I think a bout between Heather and I is a lot closer to being made than most people think. We both want this fight really bad because we are both really good undefeated fighters who demand to fight the best. Moreover, now that Showtime has expressed an genuine interest in televising this bout on ShoBox, which is something that we both wanted and in addition, since I'm promoted by DiBella, who also promotes Hardy, it makes this bout even more likely to happen sooner, rather than later.
James Stillerman: Was getting this fight with Hardy the reason you signed with DiBella Entertainment?
Shelly Vincent: It was one of the reasons I signed with DiBella because anytime two fighters are under the same promoter, it makes a bout between each other more likely to happen. Nevertheless, the main reason I signed with DiBella was because he treats women fighters better than any other promoter in the sport. He's one of the only promoters who strongly pushes television networks to broadcast women's fights, helps to publicize his women boxers, cares more about women fighters than anyone else, and treats us fairly. He also promotes more women fighters than any other promoter in boxing. I'm pretty confident that DiBella is going to be the individual that takes women's boxing to the next level.
James Stillerman: What are your other goals for 2016?
Shelly Vincent: I want to fight the other belt holders in my division and become the undisputed champion, as well as take on the best boxers in my weight class that are willing to fight me.
James Stillerman: What do you think needs to be done in order to enhance the marketability of women's boxing?
Shelly Vincent: Promoters need to do a better job at promoting women fighters, women boxers need to promote themselves more, and we need more televised fights. Once boxing starts showcasing women fighters on television, fight fans will finally realize that women can put on entertaining and action packed fights, even more so than men. UFC and MMA have done a much better job than boxing in promoting and televising women's fights like with Ronda Rousey; however, even though women's boxing has made extremely slow progress over the last couple of years, I believe that it's finally headed in the right direction. Showtime has begun to show some interest in televising women's fights on ShoBox and if we can get more of our bouts on television, than it'll allow us to obtain that media exposure that we desperately need to expand our fan base.
James Stillerman: What do you want to ultimately achieve in boxing?
Shelly Vincent: I want to win as many world titles as I can; however, ultimately I want to give women more exposure and equal rights so that the next generation of women fighters have many more opportunities than the women fighting now have. I also want to raise awareness and give a voice through boxing to the emotionally abused children and women and cancer survivors throughout the world and try to help their causes as much as possible.
James Stillerman: How do you think your career has progressed thus far?
Shelly Vincent: It has been good. I'm undefeated and I hold two world title belts, but there are bigger and better things that I'm looking to accomplishment in the future. Now that I'm promoted by DiBella, who I signed with at the beginning of this year, I believe that my goals will soon be accomplished.
James Stillerman: What are some keys to your success in the ring?
Shelly Vincent: The reason I fight so well is that I every time I'm in the ring, I fight for so many different people. I fight for all the sexually abused children, cancer patients, women who have no voice, and all of these different groups that I carry with me when I fight is what gives me the extra strength and fortitude to win every bout that I'm in.
James Stillerman: Any closing thoughts?
Shelly Vincent: I wanted to thank all the people that have believed in me throughout my career and in life. I also want to let all my fans and everyone else know that if they want, they can donate money to help pay for children, who go boxing gyms that I teach at, to attend my upcoming bout. Individuals can donate by calling (860) 574-5227 or emailing their donation request to shieldway@gmail.com. I had a tough childhood growing up and if I can make these children's day by bring them to a pro fight than it makes everything else worth it.
For more information on Vincent, visit her on Twitter @shelitosway or find her on Facebook at /ShelitosWayBoxing/.