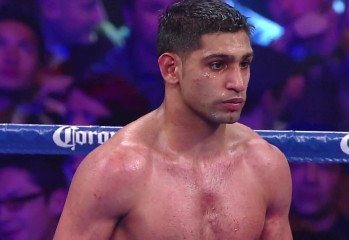 Kell Brook (32-0, 22 KO's) hasn't yet passed his test against IBF welterweight champion Shawn Porter (24-0-1, 15 KO's), but his promoter Eddie Hearn already has the first fight he wants for Brook's initial title defense for the IBF belt and that's against Amir Khan.
Hearn has been after Khan for a long time now in trying to get him to agree to a fight against Brook, and finally he's on the verge of having the bait to get Khan to agree to a fight. With the IBF title, Brook may get the Khan fight, but winning that belt won't be easy. Porter has an aggressive fighting style that Brook has never seen before, he's considerably better than the best opponents – Vyacheslav Senchenko and Carson Jones – which Brook has fought before.
"Hopefully, Kell wins this next fight against Shawn Porter and then, Khan is definitely first port of call," Hearn said to RingTV.com.
Khan came out recently in an interview and said that he would willingly fight Brook in 2015 if he wins the IBF title and beat someone good. Porter is definitely a good fighter, and it would say a lot about Brook's skills if he can get passed the tough American fighter.
Brook doesn't have the same inside fighting skills that Porter has, though, and that would mean that he would need to either tie him up on the inside or stay on his bike for as long as the fight lasts to prevent from being mugged.
Brook didn't look so great in his first fight with Carson Jones in 2012 when the American fighter took the action to the inside and battered him in the last 6 rounds.
Brook still ended up winning the fight by a 12 round majority decision, but he was out on his feet in the last 30 seconds of the round after taking some big hits to the head. Porter would be on Brook from the word go and he'd force Brook to fight on the inside whether he wanted to or not.