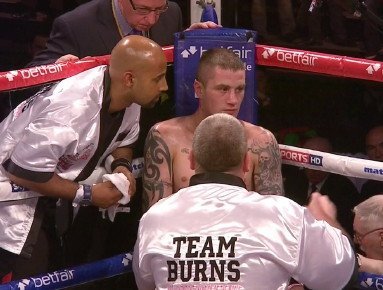 Matchroom Sport promoter Eddie Hearn is looking at potentially the end of his fighter WBO lightweight champion Ricky Burns's 3-year reign as the World Boxing Organization 135 lb. champion when he steps inside the ring to fight the unbeaten but still largely untested Terence Crawford (22-0, 16 KO's) on March 1st at the Scottish Exhibition Centre, in Glasgow, Scotland, United Kingdom.
This is a tougher fight than anything that Burns has faced before, and it's coming at the wrong time with him after two tough fights against Jose Gonzalez and Raymundo Beltran. Burns had his jaw broken by Beltran last September in receiving a 12 round draw. It's hard to see that fight and not think that Burns lucked out in getting a draw out of that. At best, Burns looked like he won 1 round of the fight. At worst, he appeared to be shutout completely by Beltran, who looked superior to him in every facet.
Hearn is naturally worried about Burns losing this fight, because it could be the end for Burns as a world champion level fighter. Hearn is a great promoter and can probably hook Burns up with a title shot against one of the other lightweight world champions, but with the way Burns has looked in his last 2 fights, it's hard to picture him being able to beat champions like Richard Abril and Miguel Vazquez.
"This is a must-win fight for Ricky and perhaps the toughest of his incredible career," Hearn said via Dailyrecord. "Ricky is more determined than I've ever seen him and to have that frame after the injury that he suffered during the Beltran fight is testament to the type of character and fighter he is."
This is a fight where it may not matter how determined Burns is. He might not be good enough to beat Crawford no matter what he tries.
Many of Burns fans seem ignorant about Crawford's skills. They see him as hype, and feel that Burns will overpower him and expose him on March 1st. I think there's a very good chance that Crawford is going to make believers out of them on March 1st by beating Burns in an even more dominant way than Beltran did. The fight is in Glascow, so Crawford is going to need to beat Burns badly in order to get the victory. He probably can't assume that he'll get his hand raised if he just dominates every round. Crawford may need to either knock Burns out or knocking him down 3 or 4 times to make sure he gets the victory.
It might be that the only way that Burns can avoid a loss in this fight is if he gets injured during training and doesn't face Crawford on March 1st or if he chooses to vacate the belt rather than step inside the ring and face the talented American fighter.