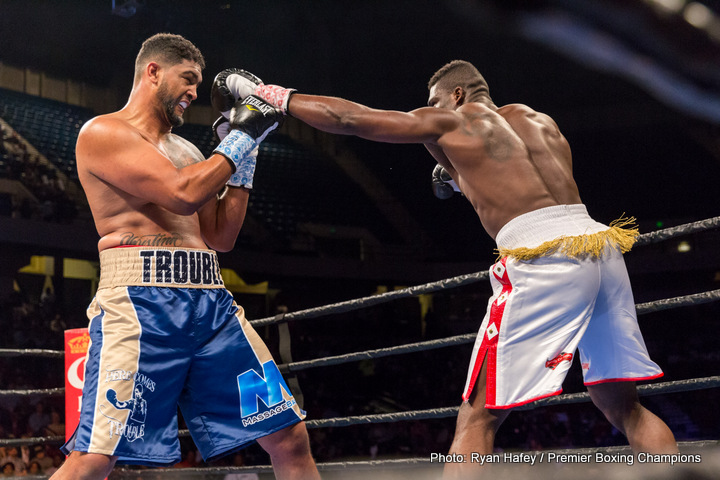 Now that heavyweight Dominic Breazeale has had the rug pulled out from under him in his previously scheduled fight against Bermane Stiverne for November 4, Matchroom Sport promoter Eddie Hearn is counting on the 6'7" Breazeale to agree to a fight against #3 WBC Dillian Whyte (21-1, 16 KOs) on October 28 in Cardiff, Wales.
Breazeale (18-1, 16 KOs) vs. Whyte would be the chief support for the heavyweight clash between IBF, WBA heavyweight champion Anthony Joshua and Kubrat Pulev at the Principality Stadium in Cardiff, Wales.
Hearn is sounding increasingly more desperate to find the 29-year-old Whyte an opponent for the October 28 card.
One thing that is working against Hearn from making that happen is how tough Whyte is. He's a very good heavyweight for anyone in the division to fight. Hearn is asking for Whyte's perspective opponents to take the fight with him on less than 4 weeks' notice. You're not going to get too many takers for a difficult fight like that on less than 1 months' notice.
"Wilder will fight Stiverne, who is his mandatory. Get that out of the way and we'll fight Breazeale on October 28 and the winner can fight the winner early next year," Hearn said to skysports.com. "We've been through the whole rankings. People tell me the number they want to get in the ring with Dillian Whyte. I pay the money and they find an excuse not to fight him. I'm not saying he's the best heavyweight in the world, but what he is – is a handful."
Hearn will need to overpay Breazeale to get him to agree to fight Whyte on less than 4 weeks' notice. If Hearn is operating on a limited budget to get an opponent for Whyte's October 28th fight, it's highly unlikely he'll be able to get anyone as good as Breazeale to agree to take the fight.
Hearn could always match Whyte against Dereck Chisora. He wants to fight him, but Hearn doesn't seem to be chomping at the bit to make the rematch between them. Whyte almost lost to Chisora last December.
Chisora was the B-side in that fight, and he fought well enough to deserve the victory. Whyte was hurt several times in the contest by Chisora, and he was quite fortunate to escape with a controversial 12 round split decision. Chisora has been eager to get Whyte back in the ring ever since.
Hearn has dragged his feet at making the Whyte vs. Chisora rematch, and you can understand why. If Chisora beats Whyte, it would wreck Hearn's plans for getting Whyte a title shot against WBC heavyweight champion Deontay Wilder. That's the fight that Hearn wants more than anything. He wants Whyte to face Wilder, and then face Joshua after that. Whyte's status would increase tenfold after he fights Wilder, if he wins the fight.
Hearn could then make a big money rematch between Joshua and Whyte on Sky Box Office. Wilder understands what Hearn's plans on, and that's why he's been asking for big money to face Whyte. Wilder has Hearn in a position of weakness with him frantic to make the Wilder-Whyte fight. Hearn needs that fight to happen to build Whyte's name up so he can match him against Joshua. Right now, a rematch between Joshua and Whyte won't sell in the UK, as Whyte has beaten no one of note since his knockout loss to Joshua in 2015.