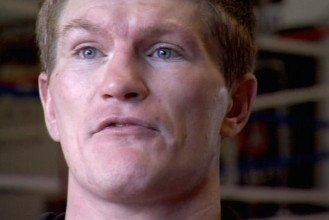 The most prominent, and at times desperate member of the "Mayweather" sweepstakes is perennial "Bridesmaid", Amir Khan (30-3,19ko) who whilst still not confirming his next fight will be with American Chris Algieri, knows he is fast running out of time and any other option.
Despite all that, perhaps the Bolton fighter can take cheer from legendary British 140lb-er Ricky "Hitman" Hatton,(45-3, 32ko) who in various sections of the British media has been vocal in his support of Khan and his chances at beating Mayweather, should he indeed secure that fight.
Hatton, who had five trips to the States throughout his career, including defeats to BOTH Mayweather and Pacquiao, is perhaps perfectly placed to give an opinion on the Bolton man's chances, having lasted 10 hard rounds with the future hall-of-famer before eventually succumbing after a left hook sent him crashing to the canvas for a second time in the round.
He wasn't so lucky against Pacquiao of course, getting knocked out inside 2 rounds, yet it has been widely reported since that Hatton hadn't been "right" going into that fight.
Regarding Khan's chances at Mayweather, "The Hitman" said;
"I think Floyd would run a mile from Amir, not because of a fear factor, but because styles make fights. Amir is boxing with a lot more discipline lately. He's in and out and not getting involved. I think that kind of style will cause Floyd massive problems."
Continuing to refer to Mayweather's "final" fight in September, Hatton said;
"When you are p4p best, like Floyd Mayweather, and Amir's a big a name as is out there, and he's beaten pretty much everyone (FM)- he might be forced into fighting Khan. He might be running out of opponent's. I say this all the time – and people laugh – but I honestly think he's (Khan) got a good chance of beating him."
This is a tricky, tricky topic and one that is guaranteed to get people talking. It would appear that Hatton is looking beyond May 2nd anyway, as he is predicting the Michigan born man will once again emerge from a fight with his hand raised. Ricky said;
"Although I think Manny has the style to beat him, I've still got to go with Mayweather. He just always finds a way to win. He is a clever, clever fighter is Manny, but here he's going against the cleverest fighter in boxing; and that's Mayweather."
I think if you scratch the surface of Ricky's comments a little, especially when you consider he picks Floyd to beat Pacquiao, there is no way he ACTUALLY believes Khan would beat Floyd. Not really. Both Manny and Khan have numerous similarities in their arsenal, speed being the most significant nowadays.
If Hatton subscribes to the belief that styles make fights, he should realise that Mayweather will thrive on any pressure Khan, or Manny will put on him. And as far as Pacquiao is concerned, it's entirely possible his aggression will be his downfall. Yet that's another thing entirely.
Khan did look absolutely sensational the last time he boxed against Devon Alexander in December, but without doing a dis-service to Alexander, he simply isn't on an elite level.
Should Floyd come through against Pacquiao, I see no good reason for him NOT to fight Khan next. I just feel he would probably rather fight IBF champion Kell Brook (34-0 23ko) (He has said he'd like to tick off boxing in England as a career accomplishment) – A man Khan has shown no interest in boxing at the moment.
I think Khan has made himself more than a little desperate chasing Floyd these last months anyway, hanging on twitter poll results and the like. If that didn't tell him it's Mayweather that calls the shots then I suppose nothing will.
So while we await May 2nd and "The Fight Of The Century" Amir Khan will be watching on once more with one eye on the prize, desperately hoping it is he who finds the final Golden Ticket for a September super fight with Mayweather. Or perhaps even Pacquiao should it be HE who emerges the victor. Let's remember that's an entirely conceivable notion before we all get carried away.
Yet whoever it is who throws the bouquet after that fight, Amir Khan had better make sure this time, he at least tries his damndest once more to catche it!
Thanks for reading as always. Follow me on Twitter @undilutedpoison